Music Department Presents Pianist Sar-Shalom Strong
---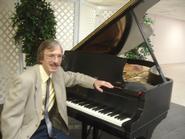 The Hamilton College Department of Music presents a faculty recital for solo piano featuring Sar-Shalom Strong on Sunday, March 3, at 3 p.m., in Wellin Hall, Schambach Center for Music and the Performing Arts. He will present Lesser-Mined Gems, v. 2.0, a recital of rarely performed music for piano. The concert, which is free and open to the public, includes music by Bach, Fauré, and Janácek, with informal commentary on the composers and the music.
Strong is well known to East coast audiences as both a soloist and a collaborative pianist. In a career spanning over 25 years, he has collaborated with international artists such as flutists Judith Mendenhall and Gary Shocker, trombonist Joseph Alessi, violinist Sarah Crocker, singers Helen Boatwright Peter Vandergraaf and Sanford Sylvan, as well as multitudes of musicians who live and perform throughout upstate New York.
Locally, Strong performs with the Society For New Music, where he has been involved in the premiere of many new works, and also appears on programs for Civic Morning Musicals, the Skaneateles Festival, A Little Summermusic, The Oasis Center of Syracuse, Hamilton College and Utica College. He has performed orchestral keyboard with virtually all the orchestras in the area, most notably for almost 10 years with the Syracuse Symphony Orchestra, and is a founding member of both the Jewell Piano Trio and the Southwick Trio. Recorded performances with Society for New Music on Innova Records and with soprano Janet Brown on Russetbush Records have met with considerable acclaim.
A native of Utica, Strong is currently a lecturer in piano and coordinator of staff pianists for Hamilton College, where he has taught since 2001. He maintains a strong commitment to teaching and encouraging aspiring younger musicians: pianists, singers, instrumentalists, and composers. Strong is active as an adjudicator and vocal coach, and also has been the accompanist/music coach for West Genesee High School since 1997. He is a member of The College Music Society, Music Teachers National Association, American College of Musicians, and the American Federation of Musicians.
For more information, call the box office at 859-4331.