Music Department to Host Syracuse Symphony Benefit Concert
---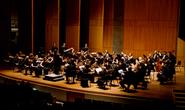 In response to the news that the Syracuse Symphony Orchestra will file for Chapter 7 bankruptcy, Hamilton's Music Department will present a special performance by the musicians of the Syracuse Symphony Orchestra and soprano Janet Brown on Sunday, May 8, at 8 p.m., in Wellin Hall. Heather Buchman, conductor of Hamilton's Orchestra, will lead the Syracuse musicians in performing Beethoven, Barber and Mahler.
The program, which underscores the special contribution that the musicians of the Syracuse Symphony make to the cultural vitality of Central New York, begins with Beethoven's Leonore Overture No. 3. The music of Beethoven is the very core of symphonic repertoire. Originally composed for the opera Fidelio, Leonore Overture No. 3, is concerned with themes of heroism and rescue.
Next critically acclaimed soprano Janet Brown will join the Symphony musicians for a performance of Samuel Barber's Knoxville: Summer of 1915. The text is taken from James Agee's autobiographical novel, A Death in the Family, in which he evokes memories of summer evenings as a child.
The program concludes with Mahler's Symphony No. 1 (Titan). One of the great orchestral works, Mahler's First Symphony traces a dramatic arc through struggle toward overcoming adversity. This concert finale showcases the importance of outstanding professional orchestras in the area.
This concert is free of charge, but a suggested minimum donation of $25 or more ($10 for students) will go toward the Syracuse Symphony Musicians Relief Fund, which makes emergency loans to players in need and which will fund future projects of the Symphony musicians. For more information call the box office at 859-4331.