Distinguished Adventure Athlete to Present at Hamilton
---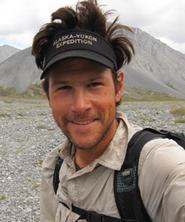 Andrew Skurka, an adventurer, speaker, guide, and writer, will give two presentations at Hamilton on Monday, Feb. 28. The first, a lightweight backpacking skills clinic, will take place at noon in the Glen House. The second, a lecture on Skurka's Alaska-Yukon expedition, will begin at 7 p.m. in the Red Pit, Kirner-Johnson Building. Both events are sponsored by the Hamilton Outing Club and are free and open to the public.
The 29-year-old Skurka is known for his lengthy solo adventures skiing, trekking, and packrafting through some of the world's most spectacular wildernesses. Most recently, Skurka completed a 4,700 mile, 6-month loop through the Alaska-Yukon wilderness. Skurka draws on his vast experience in the backcountry to inspire audiences to set goals and seize opportunities.
Skurka has been recognized as "Adventurer of the Year" by National Geographic and "Person of the Year" by Backpacker. He has also been featured in The New York Times, The Wall Street Journal, Fox News Channel, National Public Radio, National Geographic Adventure, Men's Journal, and dozens of local newspapers and magazines.