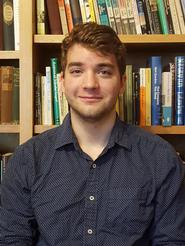 Adam Evertz '17 is delving into the limits of human verbal interaction this summer with a research project titled "Failures of Language: Literature and the Indescribable." Evertz is undertaking this research with funding through an Emerson Summer Cooperative Research Award, and under the advisement of The Carolyn C. and David M. Ellis '38 Distinguished Teaching Professor of Comparative Literature, Peter Rabinowitz. The Emerson Foundation Grant program awards grants to students and professors looking to pursue collaborative research in fields with little other available summer funding.
Evertz's research is centered around the notion that "language itself may be flawed or imperfect, and that as a result human communication may be fundamentally limited." To explore the scholarly implications of this possibility, he will be exploring primary texts from authors including William Faulkner, Joseph Conrad, Jorge Luis Borges, Gustave Flaubert and Dashiell Hammett, as well as a number of literary theoreticians. Faulkner, in particular, was a great influence upon Evertz, who selected this course of research upon receiving inspiration from the great author's opus, As I Lay Dying.
"I'm interested in this topic because it represents an enigma implicit in the way we communicate," said Evertz "Language is a tool that helps us frame and perceive the world, and ourselves within it -- quirks and flaws within a system this vital are also quirks and flaws in the way we understand the world and each other," he said.
It is for this reason that research regarding the limitations of language is so important, as human communication lies at the center of both our own personal world views, as well as our social organizations as a whole. However, these are not only broad, macro-level issues. "It's a common, everyday experience to be frustrated with language to say, 'I don't know how to describe this' or to be frustrated with feeling unable to get through to someone," Evertz remarked. Through his research, he hopes to shed some light on these sorts of everyday phenomenon from a theoretical perspective.
This course of research has had numerous benefits for Evertz, including the chance to reevaluate some of his great passions through the lens of the limits of language. He cites both literary theory and storytelling as fields that this research has granted a new view on, though the benefits are not exclusively academic.
"Working on this project has given me a better, more delicate understanding of the use and nuance of language, not only in a literary context, but in general life as well," he said, "I think that people tend to take language for granted. If anything, I'd like to raise awareness of the infinitely complicated, frustrating, beautiful thing that is human communication," Evertz concluded.