Domack, 18 Hamilton Students Head Down Under for Geology Field Course
---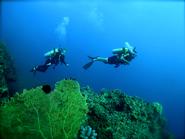 Eugene Domack, the Joel W. Johnson Family Professor of Environmental Studies, and 18 Hamilton College students left June 7 for a three-week field course to Australia and Tasmania. Three flights and 30 hours later the group landed in Cairns, a city located on the coast of Northeast Australia.
This field excursion is focusing on the geology, botany and natural history of the region. Field work will emphasize geology of the southern continents, economic resources and wilderness conservation. The class includes a one week trip to the Great Barrier Reef.
This course is financially supported by major contributions from the Joel W. Johnson Family Professorship in Environmental Studies and the Hamilton College Department of Geosciences.