Duelly Noted Gears Up for Third Annual Concert Tour
---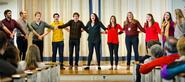 Co-ed a capella group Duelly Noted is preparing for its third annual concert tour over Hamilton's winter break. The four-day tour will include performances in New York State, New Jersey, Rhode Island and Massachusetts.

The tour will begin on Wednesday, Jan. 9, with a performance in the hometown of Duelly Noted member Ryan Dorey '15 at Ballston Spa High School (N.Y.) at 2:30 p.m., followed by an evening concert at Union College in Schenectady at 7:30 p.m.

On Jan. 10 the singers will perform in the hometown of Duelly Noted's Mackenzie Leavenworth '15 at Our Lady of the Magnificat Church in Kinnelon, N.J., at 7:30 p.m.

Duelly Noted moves on to a concert in Barrington, R.I., the hometown of Molly Voigt '15, on Jan. 11 at 7:30 p.m. at Barrington Congregational Church. The tour concludes with an evening concert at Amherst College on Jan. 12 at 7:30 p.m.

Each hour-long concert highlights a range of vocal styles and choreography. Duelly Noted's diverse repertoire often features many "oldies" including "Why Do Fools Fall In Love," "The Way You Look Tonight," and "Somewhere" from West Side Story as well as Disney classics. The set is rounded out with several pop songs including "Love on Top" and "Some Nights."

The free performances will also help to raise money for local charities. The concert at Our Lady of the Magnificat will offer a collection for the local food pantry, and the show at Barrington Congregational Church will be offering a freewill collection to benefit the BCCUCC Youth Mission Trip.

The tour is funded by the Hamilton Student Activities office.

Duelly Noted was founded at Hamilton in the spring of 2008 by eight first-year students. The group has since grown to 17 members representing all classes. In its first five years, Duelly Noted has performed in several unique venues including the streets of Venice, Italy.

For more information, please contact group president Andrew Nichols '14 by email at apnichol@hamilton.edu .