Duelly Noted to Open for The Sing-Off Live Tour
---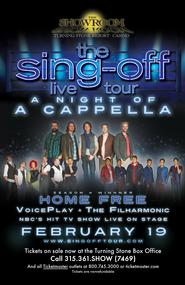 Hamilton co-ed a capella group Duelly Noted will be opening for The Sing-Off Live Tour!, a touring show based on the hit NBC a cappella singing competition on Wednesday, Feb. 19, at 8 p.m., at Turning Stone Resort Casino.
Duelly Noted was the winner of the Collegiate A Cappella Showdown that was held in November at Turning Stone. The top 3 finishers from the Showdown will perform.
Members of Duelly Noted who will perform are Maxwell Coleman, Michael Dyer, Joanie Frost, Rory Keating, Madison Kircher, Mackenzie Leavenworth, Remi Levinson, Sarah Mandel, Gabe Mollica, Andrew Nichols, Katie Puccio, Will Robertson, Jake Taylor, Maggie Whalen, Jennie Wilber and Nick Zuroski.