Educator Barbara Madeloni K'81 to Lecture
---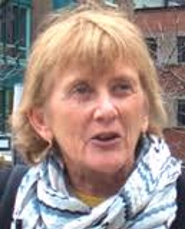 Educator Barbara Burns Madeloni K'81 will present a lecture titled "Jamming the Machine: Education for Democracy not Corporatocracy," on Monday, Feb. 18, at 4:15 p.m., in the Red Pit, Kirner-Johnson Building. Madeloni is a senior lecturer in the Teacher Education program at the University of Massachusetts, Amherst. Her lecture is co-sponsored by Hamilton's Comparative Literature and Education departments, and is free and open to the public.
After receiving her bachelor's degree from Hamilton she went on to earn her doctorate of psychology from the University of Denver. She is best known for her work as a grass-roots campaigner and organizer against corporate intervention in American education. Madeloni came into the national spotlight when she and her students refused to take part in the pilot program of the Teacher Performance Assessment tool, created by Pearson, Inc.
Since then she has railed against the influence of large corporations in schools. She is featured on At the Chalk Face, a blog and radio station focused on education reform. Madeloni sparked a campaign, titled Can't Be Neutral, which is committed to democratic education with less influence by big business.