Eight men's wins highlight Hamilton track & field invitational
---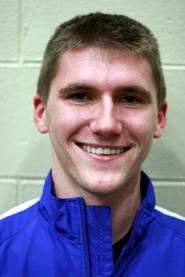 Hamilton College hosted the multi-divisional, non-team scoring 2014 Hamilton Invitational and won eight events at Margaret Bundy Scott Field House on Saturday.

Complete results

Leading the way was Joe Jensen '15, who won two individual events and led off a winning relay. Jensen remained unbeaten in the 400-meter dash, finishing in 49.68. That time ranks sixth in Division III. Jensen won the 200-meter dash in a school-record time of 22.25 and ran the first leg of Hamilton's 1,600-meter relay. That quartet also featured Nate Somes '16, Charles Ensley '17 and Sam Reider '14 and posted a winning time of 3:32.04.

Reider won the 600-meter run in 1:24.46 and Grant Whitney '17 placed third in 1:25.79. Adam Pfander '16 won the 3,000-meter run in 8:54.90 with Harry Sullivan '16 and David Freeman '16 taking third and fifth with respective times of 8:59.89 and 9:10.24. All three performances were personal bests.

Leonard Kilekwang '16 cleared 12.17 meters (39 feet, 11.25 inches) to place first in the triple jump and Will Tifft '14 won the 35-pound weight throw with a mark of 14.82 meters (48 feet, 7.5 inches). Matthew Peterfreund '14 was fourth with an effort of 12.27 meters (40 feet, 3.25 inches).

Rounding out Hamilton's winners was Jake London '14, who scored 4,063 points to win the two-day heptathlon. London recorded the top performances in five of the seven events including a season-best 9.44 in the 60-meter hurdles. His pole vault mark of 3.30 meters (10 feet, 10 inches) was a personal record.

The Continentals swept the top two spots in the 1,600-meter relay with the foursome of Andrew Mandelbaum '16, Matthew McCarron '17, Kilekwang and Whitney recording a time of 3:37.27.

Graham Sadler '14 was second in the high jump (1.83 meters/6 feet, 0 inches) and Zachary Pilson '16 finished fifth (1.58 meters/5 feet, 2.25 inches). Pilson was also fifth in the long jump, clearing 5.07 meters (16 feet, 7.75 inches).

Somes took third in the 400-meter dash (54.03), James Bryan '16 was third in the mile run (4:34.18) and Michael Burchesky '17 finished third in the 60-meter hurdles (9.61). Mandelbaum finished fifth in the 800-meter run (2:06.99) and Evan Abelson '16 took fifth in the 1,000-meter run (2:49.53).

The Continentals compete at Rochester Institute of Technology's Brown and Orange Invitational on Friday, Feb. 21.