Eight women's lacrosse players honored by Liberty League
---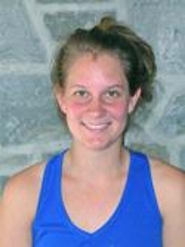 Eight Hamilton College women's lacrosse players were honored by the Liberty League on May 5 when the league announced its 2011 end-of-season awards.

Nationally ranked No. 3 Hamilton (15-1 overall, 8-0 Liberty) swept the league's four major awards. Sarah Bray '11 (Rockville, Md./Connelly School of the Holy Child) was selected the offensive player of the year, and Meg Pengue '12 (Fairfield, Conn./Fairfield Warde HS) was named defensive player of the year.

Katie D'Antonio '14 (Garden City, N.Y./Garden City Senior HS) received the rookie of the year award, and head coach Patty Kloidt and her three assistants were chosen as the coaching staff of the year. Kloidt's award is her fourth from the league. Her assistants are Kalley Friedman, Molly Moss and Mackay Rippey.

Bray and Pengue were unanimous choices for the all-league first team. They were joined on the first team by Rachel Friedman '13 (Fairfield, Conn./Fairfield Warde HS) and Anne Graveley '11 (Queensbury, N.Y./Queensbury HS).

Lauren Sokol '12 (Colts Neck, N.J./Peddie School) made the all-league second team. Ashley Allen '12 (South Portland, Maine/Waynflete School) and Libby Schultz '12 (Saratoga Springs, N.Y./Emma Willard School) were all-league honorable mention.

2011 Liberty League end-of-season awards

Bray leads the league with 2.20 assists per game, and ranks third with 4.73 points per game, third with 3.33 ground balls per game and seventh with 2.53 goals per game. The midfielder is tied for second with 1.60 caused turnovers per game. She is a four-time member of the all-league team, and this is her second time on the first team.

Pengue leads the league with 2.50 caused turnovers per game, and leads a defense that tops the league in caused turnovers per game and goals against average. She also scooped up 46 ground balls. She made second team all-league last year.

D'Antonio was a two-time league rookie of the week. She started all 16 games at attack. She has 15 goals and nine assists for 24 points.

Graveley is fourth on the team with 22 goals and 28 points. She also had 28 draw controls, 22 ground balls and 15 caused turnovers from her attack position. This is her third all-league team and her second time on the first team.

Friedman leads the league with 3.81 goals per game and is tied for fourth with 4.50 points per game. The midfielder was a 2010 league co-rookie of the year and made the first team. Her 61 goals are the fourth-highest total in one season in program history.

Sokol recorded 29 draw controls, 28 ground balls and 13 caused turnovers as she started all 16 games on defense. She was first team all-league last year.

Allen scored 14 goals and added five assists from her midfield position. She added 16 ground balls and 10 draw controls in 16 games played. She started 13 games.

Schultz is third on the team with 23 goals and 35 points, and is tied for second on the squad with 12 assists. She started all 16 games at attack.

Hamilton clinched its fourth league regular season title in the last five years on April 30. The Continentals are riding a 13-game win streak as they prepare to host the 2011 league championship on Friday and Saturday, May 6 and 7.

Hamilton is the No. 1 seed and will play No. 4 Skidmore in one semifinal on Steuben Field at 2 p.m. on Friday. No. 2 Union takes on No. 3 Rensselaer in the other semifinal at 4 on Friday. The winners meet in the championship game on Saturday at 3 p.m. The Continentals have won four straight league championships, and have played in the final five consecutive years.