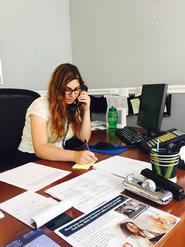 Elza Harb '18 hasn't yet declared her prospective major in government, but she's getting a strong start along that path with an internship this summer in the district office of Congressman Mike Quigley (IL-05) in Chicago.

Quigley, elected in the 2009 special election to fill the vacancy left by Congressman-turned White House Chief of Staff Rahm Emanuel, is known for his staunchly liberal stances on social issues, including public health and LGBTQ rights. Harb's internship with Quigley's office is funded through Hamilton's First Year Forward program.
Harb discovered her internship through connections at the Career and Life Outcomes Center. "I met with Janine Oliver... and looked at the alumni directory to find alumni in Chicago who were working in areas I was interested in," she explained. "Then in January I had an informational interview with one of those alums, Cody Lowe '13, who works for Congressman Quigley as an aide. He told me all about the internship and encouraged me to apply."
As an intern in Quigley's District Office, Harb has been conducting research on education policy broadly, and is currently assessing individual schools in Illinois' fifth district.

"I'm trying to determine which schools in the district have the most need, by comparing student performance and budgets," she said.

That, Harb claims, is much easier said than done, however. The realities of the educational system leave certain schools with performance results that are disproportionate to their funding, often featuring large budgets but poor results, or vice-versa, leading to difficulties in analyzing the relative need of given schools. After Harb is finished compiling the list, Congressman Quigley plans to review the schools and hopes to assign aid to those with the greatest need.
Harb said that the internship has been highly rewarding in providing experience in politics. "This internship is a way for me to see how a Congressional office operates, which is great because I'm interested in law and politics," she said. "Through my work, I was able to look closely at and know more about specific public policies and the lawmaking process."
Harb's time with the Congressman's office fell in line with a number of significant political events, primarily the consideration of the Trans-Pacific Partnership agreement and the Iranian nuclear talks. This was ideal as an educational opportunity, she said, due to her particular interest in the field of international affairs.
"Overall, the internship allowed me to look closer at fields that I am interested in pursuing and was an invaluable learning experience."
Beyond clarifying her educational and professional aspirations, however, Harb said that her time with Quigley's office has led to other insight as well.

"I wish more people would realize how much your representative can do for you, because I've seen so many people being helped in areas where I had no idea that a Congressman could even help in."

Seeing firsthand the level of individual and public engagement with politics, she also lamented the lack of political efficacy among the American people. "I wish… that more people would take the time to call their representatives and voice their opinions on important bills coming up for a vote in Congress, because it actually does matter," she concluded.