An Entirely Synthetic Fish Author to Lecture
---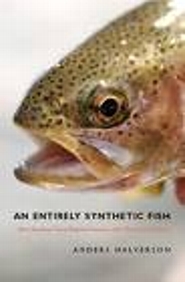 Anders Halverson, author of An Entirely Synthetic Fish: How Rainbow Trout Beguiled America and Overran the World, will present a lecture on Monday, April 11, at 7 p.m., in the Science Center's Kennedy Auditorium. The lecture is free and open to the public.
Halverson is an award-winning journalist with a Ph.D. in ecology from Yale University. An Entirely Synthetic Fish won the 2010 National Outdoor Book Award. Halverson grew up fishing for rainbow trout, the Colorado state fish, in Denver in the 1970s. The rainbow trout was introduced as a game fish in the United States in the early 1970s and quickly became the most dominant trout in American waterways. In his book, Halverson examines the history of the rainbow trout and discusses the environmental and economic consequences of stream-stocking.

Halverson is an ecologist and researcher at Colorado University's Center of the American West.