Climatopolis Author Alumnus Matt Kahn '88 to Lecture
---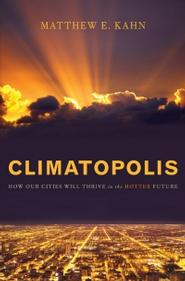 Hamilton alumnus Matthew Kahn '88 will address the economics of and future adaptation to climate change in a lecture on Tuesday, Sept. 21, at 7:30 p.m., in the Chapel. The lecture, "Climatopolis: How Our Cities will Thrive in the Hotter Future," is sponsored by Hamilton's Arthur Levitt Public Affairs Center. It is free and open to the public.

Kahn is the author of Climatopolis, described by Publishers Weekly as "…a sanguine look at how cities will fare under climate change." He is a professor at the UCLA Institute of the Environment, the UCLA Department of Economics, and the UCLA Department of Public Policy as well as a research associate at the National Bureau of Economic Research.

Kahn is also the co-author of Heroes and Cowards: The Social Face of War, Princeton University Press (2009), and the author of Green Cities: Urban Growth and the Environment, Brookings Institution Press (2006). His research focuses on environmental, urban, real estate and energy economics.

The Levitt Center is sponsoring a series of evening lectures for the 2010-2011 academic year focused on three, thematically based programs: Security, Sustainability, and Inequality and Equity. "Sustainability" lectures such as Kahn's will focus on sustainable practices and the necessary policies to achieve them, including issues related to environmental conservation as well as poverty reduction and health.