Godwired Author Rachel Wagner to Lecture
---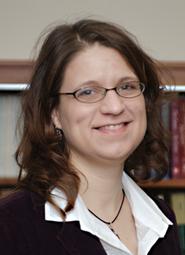 Author and Ithaca College religious studies professor Rachel Wagner will discuss her recent book Godwired in a lecture at Hamilton on Monday, Dec. 5, at noon, in the Taylor Science Center, room GO41.
Godwired offers an engaging exploration of religious practice in the digital age. It considers how virtual experiences like stories, games and rituals are forms of world-building that serve as a means of making sense of our own world. Wagner examines technology as a vehicle for sacred texts, how religious ritual works online and online worship space. She suggests that while our engagement with virtual reality can be viewed as a form of religious activity, today's virtual religion marks a radical departure from traditional religious practice; it is ephemeral, transient, rapid, disposable, hyper-individualized, hybrid and in an ongoing state of flux.

The event is sponsored by the Religious Studies Department and the Dean of Faculty and is free and open to the public.