Synthetic Fish Author Details History of Rainbow Trout
---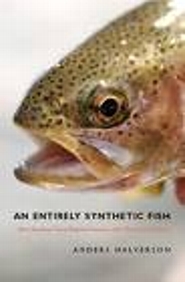 The rainbow trout is the most widely-fished freshwater fish in the United States. Muscular and intelligent enough to provide a challenge for experienced fishermen, rainbow trout can grow up to 40 pounds and can be found in nearly every region of the United States—but it hasn't always been that way. In his lecture in the Science Center Kennedy Auditorium on April 11, Anders Halverson, author of An Entirely Synthetic Fish: How Rainbow Trout Beguiled America and Overran the World, discussed the history of the rainbow trout as a game fish and the environmental implications of massive, cross-country stocking in freshwater streams.
Fishermen in every state but Hawaii can fish for rainbow trout, but almost nobody knows that the rainbow trout is only native to a relatively small part of the Pacific Rim in the Pacific Northwest, Canada, Alaska and northeastern Russia. One might wonder how an innocuous fish has single-handedly managed to outcompete every other freshwater species in North America; the answer is an incredibly-scaled, intricate stocking effort by the Fish and Wildlife Service that started in the mid-1800s and is still going strong today.
The main motivating factor behind the stocking of rainbow trout in America is not necessarily intuitive. Philosophers and outdoor enthusiasts worried that, in the aftermath of the industrial revolution, American men were spending too much of their time indoors, wearing collared shirts and reading books. America was becoming, they said, an effeminate nation and was losing its hunger for adventure and exploration. Politicians began to worry that these shortcomings would begin, over time, to undermine the principles on which America's democracy is founded, and cast about for solutions. On the recommendation of ecologists such as George Perkins Marsh and Spencer Fullerton Baird, the government set out to stock America's streams with rainbow trout, hoping that the game fish would ignite in men a passion for adventure and save American democracy.
The stocking effort was extraordinarily managed and turned out to be extraordinarily successful. Rainbow trout were born and raised in hatcheries and packed into milk jugs and onto trains by the millions. Anyone who wanted a batch of fish for their stream could contact the Fish and Wildlife Service by telegram, pick up their fish at the nearest drop-off point, and simply dump them into whichever freshwater body they chose.
The stocking grew in scale and creativity as the years progressed—a group of World War II pilots, upon returning from service, found that they could distribute the fish with incredible efficiency by dropping milk jugs into freshwater lakes from airplanes. This is a practice that is still going on today. In 2004, American streams were stocked with 23 million pounds of rainbow trout, far more than the combined total of all other species of freshwater fish.
The history of rainbow trout stocking in America is fraught with an incredible amount of environmental degradation. The Wyoming Fish and Game Department, in 1962, undertook the Green River Rehabilitation in 1962, which was essentially a controlled dumping of poisons into the Green River meant to kill off native fish species in order to make room for the rainbow trout. In searching through periodicals from the 1960s that covered this initiative, Halverson said that he was amazed to find that virtually none of them addressed the irony of a mass-poisoning being referred to as rehabilitation. In fact, operations such as this were not uncommon and are only now starting to come under scrutiny from the environmental community.
Contemporary controversies behind rainbow trout stocking are practically endless—amphibian populations are declining across the country because rainbow trout are outcompeting them, ecologists mourn the extinction of native trout species, and many fishermen are calling into question the ethics behind genetically engineered game fish. While some environmentalists support efforts to rehabilitate native fish populations, it can prove difficult, now that so many years have passed, to distinguish a native trout species and a hybridized native/rainbow species.
The U.S. Fish and Wildlife Service is also an organization that is almost exclusively funded by permits that it sells, and therefore has a very large incentive to continue stocking so that people continue to go out and buy permits. Halverson is skeptical that any conclusive answer about the future of the rainbow trout can be agreed upon in the future, but emphasized that the history of the rainbow trout is an important lesson in the care that must be taken with the introduction of nonnative species.