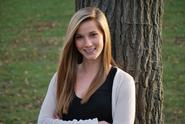 Emma Teach '16 has been awarded a Coccia Foundation Scholarship for study abroad in Italy this summer. The Coccia Foundation was established in 1994 by Cavaliere Joseph Coccia, Jr. and his wife Elda as an organization dedicated to the preservation and celebration of Italian culture, with a particular emphasis on promoting the rich Italian cultural heritage among younger generations at the college level.
Teach, an economics major and mathematics and art history minor at Hamilton, intends to pursue her passion for Italian art in Raphael's home town as she participates in the Rutgers Summer Study in Urbino Program for six weeks.
While in Italy, Teach plans to immerse herself in all things Italian, and as a member of the Hamilton Women's Soccer Team, she is also looking forward to watching the 2014 FIFA World Cup Soccer Championship in the animated setting of Italy's piazzas.
As a member of the Italian Club at Hamilton College, Gli Hamiltoniani—Amici della Cultura Italiana, Teach has been involved in activities to promote awareness of the Italian language and culture at Hamilton CollegeA Dean's List student, she was named to the NESCAC 2013 Fall All-Academic Team. She is also a member of Hamilton's Peer Mentoring Project and she will be participating in the Hamilton in New York Program next fall.
Teach, the daughter of Gail Hill Teach and Edward Teach, is from Belmont, Ma., and a graduate of Belmont High School.