Energy Saved Over College Break Could Power 20 Homes
---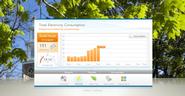 During Hamilton's winter break closure from Dec. 17 through Jan. 2, the College saved enough kilowatt hours to power 20 average homes in the U.S. for an entire year, according to Steve Bellona, associate vice president for facilities & planning. The savings are largely attributed to a reduction in (electrical) plug load (TVs, lights, computers) and building lighting.

Bellona reported that Hamilton reduced its electrical consumption by 147,937 kilowatt-hours for the 30 buildings listed on the Hamilton building energy dashboard. This translates to approximately 236,826 kilowatt-hours saved by the entire campus.
Most campus buildings were closed during the break with the exception of Communications & Development, the Admission office, and the Post Office. International students were housed in the Bristol Center until Dec. 27 when athletes returned to campus and those groups returned to their residence halls. Bellona said that buildings were kept at 68 degrees throuhgout the closure.

Additional savings were generated with McEwen closed for meal preparation, and lower temperature settings in electrically heated buildings.

Physical Plant created a means of monitoring energy savings over the holiday through use of the Hamilton Building Dashboard. The results of the energy savings and carbon emission reductions over the past two weeks were very encouraging, Bellona noted. The Hamilton energy dashboard encompasses 62 percent of Hamilton's total campus square feet, thus providing an accurate snapshot of the electrical energy conserved from midnight on Dec. 17 to midnight Jan. 2.
Bellona said these energy savings helped reduce Hamilton's carbon emissions by 84.9 metric tons of carbon dioxide or an equivalent of planting 2,177 tree seedlings for a growth period of 10 years.( See Greenhouse Gas Equivalency Calculator).

This year Hamilton achieved its 20 percent reduction goal for carbon emissions four years earlier than predicted by reducing emissions 20.9 percent and that the College's energy consumption based on green materials has increased from 24.6 percent to 29.6 percent.