Fallcoming 2013 is Sept. 26-29
---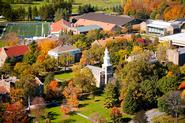 Hamilton's annual Fallcoming will take place on campus Oct. 26 through 29. Among highlights of the weekend will be the dedication of the Jazz Archive, a Wellin Museum artist's talk and numerous athletic contests. The full schedule is here.

On Friday, the annual Helen and Doane Comstock '27 Memorial Luncheon will celebrate student scholarships in the Tolles Pavilion.

Alumni, parents and friends are invited to participate in a wide variety of classes to experience what it's like to be a student at Hamilton today.
The 20th annual Fallcoming Jazz concert takes place Friday night at 9 p.m. in the Fillius Events Barn. Pianist Dick Hyman leads an ensemble with guitarist Bucky Pizzarelli, drummer Jackie Williams, bassist Jay Leonhart and trumpeter Randy Sandke on board. Deanna Nappi, 15, trombonist Greg McCrea and Monk Rowe, the Joe Williams Director of the Jazz Archive, will join the band for a rare performance of music from Mr. Hyman's 1994 CD "From the Age of Swing." During intermission, the Jazz Archive will be dedicated in honor of Nikki and Milt Fillius Jr. '44.

On Saturday at 3 p.m., the Wellin Museum will feature an Artist in Conversation talk with Frohawk Two Feathers (Umar Rashid), a storyteller, historian, musician and poet. A mash-up of real and invented history, the art of Two Feathers reflects the past and the present -- traditional European portraiture, Native American art, folk art, and contemporary urban culture.

Men's and women's soccer, football, field hockey, volleyball and men's and women's' rugby teams will all compete at home. The 1963 men's football team will be honored during halftime of the game.

Also on Saturday is a concert featuring all five Hamilton a Capella groups including Duelly Noted, Special K, Tumbling After, The Hamiltones and The Buffers. It will take place in the Chapel at 3:30 p.m.