Fallcoming Highlights Wellin Museum Opening
---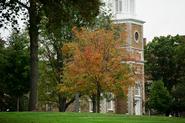 Hamilton's annual Fallcoming will take place on campus Oct. 4 through 7, with activities to suit every interest. The highlight of the weekend will be the dedication of the Ruth and Elmer Wellin Museum of Art with numerous events surrounding its opening.

A Wellin Museum opening celebration for the campus community is scheduled for Thursday, Oct. 4, at 7 p.m. on the museum terrace. The band Filligar, with Casey Gibson '09, will entertain.

A career panel, Social Innovation & Social Entrepreneurship, will take place at 7 p.m. in room 3024 of the Taylor Science Center. Panelists will include Steve Culbertson '79, president and CEO of Youth Services America; Alon Hillel-Tuch '07, co-founder and CEO of RocketHub; Haley Reimbold '06, co-founder of the UnderGround Cafe in Utica, now with Vera Institute of Justice (NYC); Nancy Roob '87, president of Edna McConnell Clark Foundation; and Mark Montgomery, founder of The Montgomery Experience (Bridgewater, N.Y. camp for children with cancer).

On Friday, Bill Huggins P'14, associate director, Physical Plant, will lead a guided tour of the Ruth and Elmer Wellin Museum of Art at 11 a.m.

The annual Helen and Doane Comstock '27 Memorial Luncheon will celebrate student scholarships in the Tolles Pavilion.

On Friday at 4 p.m. an alumni college, "Ezra Pound, Hamilton Class of 1905: My Fascist/Traitor/Lunatic/Anti-Semite/Genius Poet," will be led by Austin Briggs, who taught English at Hamilton for 50 years. Briggs will speak about his decades of deep ambivalence toward Pound, and recall his experience hosting Pound for a surprise lunch at his home on College Hill, as well as personal interactions relating to Pound with such greats as John Updike, James Dickey and W.H. Auden.

The Ruth and Elmer Wellin Museum of Art will be formally opened with a dedication and ribbon-cutting ceremony at 5:30 p.m.

Friday evening will wrap up with World-Class Jazz at 9 p.m. in the Fillius Events Barn. Pianist Dick Hyman leads an all-star sextet for the fourth consecutive year. Hyman H '02, will direct a dream ensemble comprised of guitarist Bucky Pizzarelli H '03, drummer Jackie Williams, bassist Nicki Parrott, trumpeter Randy Sandke and vibraphonist Peter Appleyard. This annual jazz event, initiated in 1993 by Milton F. Fillius, Jr. '44, never fails to please the most discerning jazz lovers. Sponsored by the Hamilton College Jazz Archive.

A full day of events is planned for Saturday at the Wellin Museum. Guided tours led by student docents will begin on the hour between 10 a.m. and 4 p.m. At noon a tour of the Museum's opening exhibition, Affinity Atlas, will be led by Emerson Gallery Consulting Director Ian Berry and Associate Director and Curator of the Ruth and Elmer Wellin Museum Susanna White.
Deborah Pokinski, associate professor and chair of art history, will moderate a panel discussion of Hamilton alumni working in the arts at 1:30 p.m. in the Museum's overlook area. Alumni panelists will include Jackie Brown '04, Jordan Crosby '01, Ruthie Dibble '07, Mary Rozell '84 and Michael Scott '81.
A screening of Waste Land, a documentary by Lucy Walker about exhibiting artist Vik Muniz, will take place at 3 p.m. Amit Taneja, director of the Days-Massolo Center, will lead a post-screening discussion.

An opening reception for the Museum at 5 p.m. will feature remarks by President Joan Hinde Stewart, Director Tracy L. Adler, Guest Curator Ian Berry and Trustee Linda E. Johnson '80. Michael E. Shapiro '71, the Nancy and Holcombe T. Green, Jr. Director of the High Museum of Art, will give the keynote address.