Fallcoming is October 7-10
---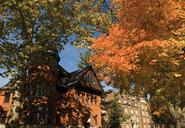 Hamilton's annual Fallcoming will take place on campus, Oct. 7 through 10, with numerous activities to suit every interest. Among highlights are the dedication of the new Sadove Student Center at Emerson Hall (formerly Emerson Literary Society), two Alumni Colleges, a world class jazz performance, and career talks by Hamilton alumni.

Thursday's events will feature several alumni guests. In a career information session, Rich Vellante '86, executive chef and executive vice president of restaurants for Legal Sea Foods, will explore why and how a liberal arts education is relevant in the culinary and business world of today. Alumnae authors and poets Jo Pitkin and Nin Andrews will read selections of their work. Also on Thursday, the Humanities Forum lecture will feature Yale University professor Sally Promey, who will present "Always a Golden Calf: Materialities and Sensational Religions in 'Secular' Modernity."

Friday's annual Helen and Doane Comstock '27 Memorial Luncheon will celebrate student scholarships in the Tolles Pavilion, and in the Red Pit, David Solomon '84 will discuss current issues in the financial markets.

On Friday afternoon in the Chapel, distinguished writer and academic Louis Menand will give a talk titled What Every College Graduate Needs to Know. Newly appointed Chief Diversity Officer and Professor Donald Carter will discuss his recently published book resulting from years of research in Turin, Italy in an Alumni College: Navigating the African Diaspora: The Anthropology of Invisibility at 4 p.m.

The Sadove Student Center at Emerson Hall Dedication Ceremony will take place at 5:30 p.m. and later that evening the Alumni All Stars Jazz band members past and present will be honored as Volunteers of the Year during the Fallcoming Recognition Dinner.
The jazz theme will carry over into the evening's entertainment when Hamilton presents World-Class Jazz with a 9 p.m. performance by pianist Dick Hyman '02, guitarist Bucky Pizzarelli '03, drummer Jackie Williams, bassist Nicky Parrott, trumpeter Randy Sandke and clarinetist Evan Christopher in the Fillius Events Barn.

Saturday's events will include guided tours of the Sadove Center with Bill Huggins at 11 a.m. and 3 p.m. Another Career Connections event will feature an alumni guest panel share networking tips and how the Hamilton alumni network worked for them at 11 a.m.

At 11:30 a.m. Hamilton's 1812 Heritage Garden will be the focus of another Alumni College. Professors Franklin Sciacca and David Gapp will discuss establishment of the garden (now two years old) and how it plays a role in the Food for Thought course and the celebration of the College's bicentennial. Weather-permitting, a tour of the fall garden will follow.

On the athletic fields, football will host Trinity and women's soccer will face Vassar on Saturday, and both the men's and women's soccer teams will play alumni/alumnae games on Sunday.

On Saturday the Kirkland Mentoring Committee will host award-winning documentary photographer, Lori Grinker, who will give an illustrated talk on her work. Later on Saturday Ohio University professor of economics Richard K. Vedder, author of Going Broke By Degree: Why College Costs Too Much, will discuss "the High Cost of Higher Education."

For Saturday night's entertainment, Fallcoming attendees can enjoy Emerson Literary Society Jazz Cabaret in the Sadove Student Center or a faculty recital in Wellin Hall.