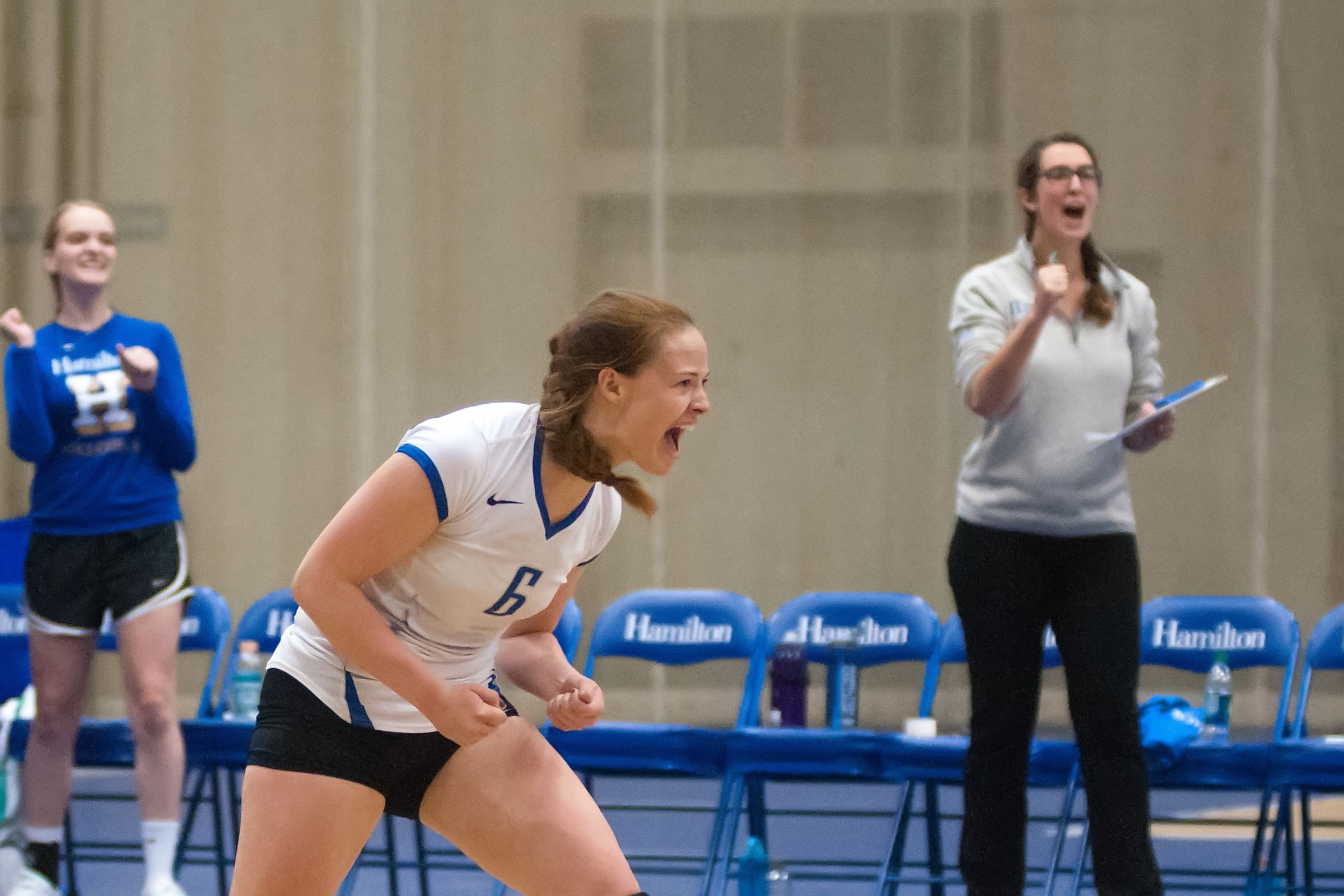 The Hamilton College volleyball team snapped a three-match losing streak on Friday night, rallying for a NESCAC win over visiting Colby at Margaret Bundy Scott Field House. With the conference season half over the Continentals (11-6, 3-2 NESCAC) have already matched their highest total of NESCAC wins.

Box score

The Mules (9-8, 1-5 NESCAC) won the opening set 25-22 before the hosts swept three straight (25-21, 25-18, 25-13). The Continentals hit .433 in the last two sets, including a .556 mark (16-1-27) in the decisive final set.

Courtney Brown '18 led Hamilton with a season-best 19 kills. She finished the third set with kills in her last five attempts and hit .778 in the fourth, collecting seven kills without an error in nine attempts.

Colby held a 12-8 lead in the first set, then ran off six straight points after the Continentals had pulled to within 12-10. Hamilton's 5-0 run cut the Mule lead to 18-17. A pair of Colby aces in a 3-0 run put the visitors up 21-17 and they responded to three straight Continental points by sealing the win with a 4-1 run. The Mules scored six points on service aces in the set.

In the second set Hamilton's Emily Rosen '15 had a pair of service aces in a 4-0 run that put the Continentals up 5-2. Kyndal Burdin '18 and Christine Zizzi '18 served four straight points apiece as the hosts opened up an 18-9 advantage. Colby scored six points in a row to pull to 19-16 but didn't get any closer, as Hamilton scored the decisive point on a kill by Erin Casey '15, who finished with eight.

Burdin finished with match-high totals of 37 assists and 18 digs. Zizzi's 16 digs were a career-best total.

The Continentals climbed out of a 10-5 deficit in the third set, using a 5-0 run with Jessica Weston '17 serving to go up 15-14. Three straight points put Hamilton ahead 19-15 before the Mules pulled back to within a point with their own 3-0 run. Burdin served six straight points to close out the victory, including an ace for the final point.

Hamilton took control of the final set as Zizzi served eight consecutive points, putting the Continentals ahead 20-11. With Hamilton up 21-13, Jamie Granskie '16 came in and finished the match with four points in a row.

Karolina Serhan '17 led Colby with 13 kills and Emily Moslener '18 finished with 27 assists and 18 digs. Sarah Arvidson '16 and Hannah Insuik '17 contributed 15 digs apiece and Natalie Roy '16 added 13. Kim Donaldson '16 had four of Colby's 11 service aces.

Erin Donahue '18 collected 11 kills for Hamilton (one short of her career high) and Margaret O'Brien '18 posted eight without an error. O'Brien's seven blocks included five solo, the last of which provided the Continentals with match point. Rosen and Anna Brown '15 had 15 and 11 digs, respectively.

The Continentals continue their Fallcoming/Family Weekend series on Saturday, Oct. 11, hosting Bowdoin at 2 p.m. Colby travels to Middlebury for a 2 p.m. match.