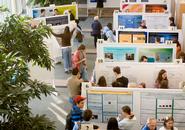 Hamilton's Family Weekend will take place on campus from Oct. 22-25 with 1,100 family members and friends expected for the annual event. Families can attend Hamilton classes, enjoy music and dance performances or cheer on the Continentals at athletic contests.
Events begin on Thursday, Oct. 22, with a lecture by attorney Daniel Connolly '85, P'18 on "The Role of the Lawyer in a Time of Governmental Reform: Tales from the Giuliani Administration and NYC's Rebirth" at 4:15 p.m., in KJ 101.
Also on Thursday families can attend open classes and tour the Kennedy Center for Theatre and the Studio Arts and/or the College cemetery.
Highlights of Friday's events include the science and Levitt Center research poster sessions. Students who conducted collaborative research in the sciences with faculty last summer will present posters and explain their work in the Taylor Science Center Atrium. The Arthur Levitt Public Affairs Center funded students and faculty who conducted research on a number of topics related to government, public affairs and anthropology. They will present posters and discuss their findings in the Kirner-Johnson mezzanine. The poster sessions begin at 3:30 p.m.
The Hamilton College Choir celebrates Family Weekend in a combined concert with the Department of Dance and Movement Studies beginning at 7:30 p.m. in Wellin Hall, Schambach Center.
A Family Weekend comedy event, Improv Shmimprov, will take place Friday evening in the Fillius Events Barn. Hamilton's own student improv group Yodapez opens the show at 8 p.m. An a Capella concert with on-campus groups rounds out the evening with performances to start at 9:30 p.m. in the Chapel.
Career development and networking are on the Saturday morning agenda. Hamilton's Career Center staff will host a workshop, "Careers and Connections for Seniors and their Parents" at 9 a.m. in Bradford Auditorium, KJ, and "Hamilton Class of 2018: Why the Sophomore Year is Crucial to Career Success" also led by the Career Center, will take place at 9 a.m. in the Red Pit.
President Joan Stewart will welcome families at 10 a.m. in Wellin Hall, and a faculty tea will follow at 10:45 a.m. in KJ Commons.
Men's and women's cross country will host the New York State Collegiate Track Conference beginning at 11 a .m., and men's and women's soccer, field hockey and football compete against Colby in NESCAC contests.
Prize-winning creative writing students will read from their short stories and poetry beginning at 1 p.m. in the Fillius Events Barn. Students representing the Hamilton Democrats and Republicans will debate The Iran Deal at 2:30 p.m. in the Kennedy Auditorium, Taylor Science Center. Later, Adirondack Adventure and Outreach Adventure will recapture memories from this year's trips with slide shows at 4 p.m. in Bradford Auditorium and 4:30 p.m. in the Red Pit, respectively.
The College orchestra and jazz ensemble will offer a combined performance at 7:30 p.m. in Wellin Hall, and BLSU hosts a Latin Ball at 10 p.m. in the Fillius Events Barn.
Before heading back home on Sunday attendees can enjoy a stroll and light brunch in the tent on the Clinton village green.