Field hockey tops Rochester
---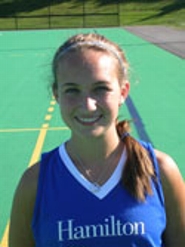 Midfielder Nikki Haskins '14 scored twice in a span of 12 minutes in the second half to lead nationally ranked No. 19 Hamilton College to a 4-2 win over the University of Rochester in a Liberty League game at Rochester's Fauver Stadium on Oct. 9.

Hamilton (8-1 overall, 5-0 Liberty) won its sixth straight game. The Continentals also clinched their third straight berth in the league's postseason tournament.

Only three minutes into the first half, Allison Beardsley pushed the ball into the right side of the slot and Shelby Hall tucked it past Molly Brooks '14 for a 1-0 Rochester lead. The Continentals tied the score at 11:39 on a long pass upfield from Catie Torcivia '12 to Mary Lancaster '12 on the left post. Lancaster's shot found the lower right corner for her third goal.

At 17:34, Colleen Callaghan '11 completed a 25-yard solo run down the left side by slotting the ball past Yellowjackets goalie Madison Wagner to give the Continentals a 2-1 advantage. Callaghan leads the team with 11 goals for the season.

With the Yellowjackets trailing 2-1, Beardsley put the ball in front and Alexis Vangellow tipped it high into the net to equalize the score. Haskins scored the game-winning goal with 18:32 left and added the insurance tally in the 63rd minute to clinch the victory. Both of Haskins' goals were assisted by Lancaster.

Molly Brooks '14 finished with four saves for the Continentals. Madison Wagner made four saves for the Yellowjackets.

Hamilton's next game is home against Williams on Wednesday, Oct. 13 at 7 p.m.