Field hockey advances to second straight league title game
---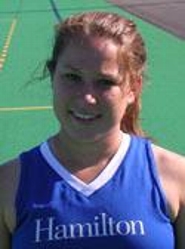 Colleen Callaghan '11 scored 1 minute, 23 seconds into the second sudden-victory overtime period to lift nationally ranked No. 14 Hamilton College to a 2-1 win against William Smith College in a 2010 Liberty League field hockey tournament semifinal game at Hamilton's Campus Road Athletic Field on Nov. 3.

Hamilton, which is the No. 2 seed in the tournament, will play at No. 1 seed Skidmore College in the tournament final at 1 p.m. on Saturday, Nov. 6. Skidmore blanked No. 4 seed Union College 3-0 in the other semifinal on Wednesday. The winner of the final receives an automatic bid to the NCAA championships. Hamilton (13-2 overall) lost 3-2 in overtime at Skidmore in the 2009 league tournament final.

Callaghan intercepted a pass in William Smith's half of the field and carried the ball into the circle. Herons goalie Taryn Little '13 came out to stop Callaghan's progress, but Callaghan maneuvered around Little and fired a shot into the open cage. Callaghan improved her program-record goal total this season to 19, and it was the 45th of her career.

Emily Atwan '11 gave William Smith a 1-0 lead on her team-high 15th goal with 7:08 left in the first half. Atwan broke free up the left side, carried the ball into the circle and blasted a shot past Molly Brooks '14, who was charging out of the Continentals' goal to meet Atwan.

Just when it looked like the Herons would escape with the road win, Hamilton rallied with a late goal. Erin McNally '12 smacked the ball towards the goal where it was deflected in front and eventually slid over to Catie Torcivia '12, who was waiting near the left post. Torcivia swept the loose ball into the cage for her fifth goal with 2:45 remaining in the second half. McNally was credited with her sixth assist.

Torcivia, who plays defense, left the game early in the first overtime with an apparent leg injury and did not return. William Smith (11-8) took five shots in the first overtime, including ones by Atwan and Annie Kietzman '13 that missed just wide in the final 70 seconds of the period.

Brooks finished with five saves, including one in the first overtime, for the Continentals. Little stopped eight shots for the Herons. William Smith held a 19-18 edge in shots, while Hamilton owned a slight 10-9 advantage in penalty corners.

The Continentals, who are ranked fourth in the North Atlantic Region by the NCAA, set a team record for wins in a season with its 13th in the semifinal. Hamilton has won four straight games against the Herons, and all four have been in overtime. The Continentals rallied from a 2-0 deficit at William Smith to win 3-2 in an extra period on Oct. 8. The Herons still lead the all-time series, 29-6-1.