Field hockey claims first NESCAC win
---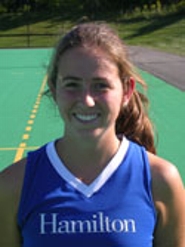 Caitlin Livsey '12 broke a tie with her first goal this year midway through the second half, and Hamilton College held on for a 2-1 win against Connecticut College in a NESCAC field hockey game at Hamilton's Campus Road Athletic Field on Sept. 17.

Mary Lancaster '12 scored her second goal in as many games for the Continentals, who have played 39 straight contests without being shut out. Victoria Trentini '15 made four saves, and Catie Torcivia '12 was credited with a defensive save.

Hanna Wagner '12 scored Conn. College's goal, and Brittany Fitzgerald '13 picked up her third assist this year. Becca Napolitano '15 turned away four shots.

Hamilton (2-1 overall, 1-1 NESCAC) grabbed a 1-0 lead 9 minutes, 51 seconds into the first half. Sarah Flisnik '12 took a shot from the left wing that was blocked, and the ball eventually bounced over to Lancaster, who pounced on the rebound from close range. The goal was the 17th of Lancaster's collegiate career.

The Camels (3-1, 1-1) tied the score following a penalty corner with no time left in the first half. Fitzgerald, who earlier had started the play, fired the ball towards the right post. Wagner was there to redirect the ball into the back of the cage.

Livsey provided the game-winner with 18:34 left. She gained possession of a loose ball outside the arc and dribbled in from the right wing. With a defender draped on her left shoulder, Livsey laced a shot that eluded Napolitano, who had charged off her line to try and stop the breakaway opportunity. The goal was Livsey's sixth for the Continentals.

Both teams took 14 shots and both were awarded nine penalty corners. This game marked the first meeting between the teams.

Hamilton hosts Amherst College for another conference game on Saturday, Sept. 24. Conn. College returns home to play Trinity in NESCAC action on Saturday as well.