Field hockey downed by Colby
---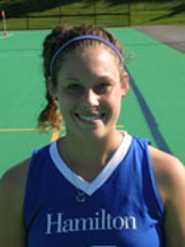 Caroline Chessare '13 scored two goals in 48 seconds to lead Colby College to a 4-2 win over Hamilton College in a NESCAC game at Colby's Bill Alfond Field on Oct. 16.

Chessare finished with the two goals, and Courtney Erskine '13 and Hannah O'Brien '12 added one goal apiece. Caitlyn Lancaster '12 had two assists, and Kaitlyn O'Connell '15 and Sally Klose '12 each had one.

Nikki Haskins '14 and Erin McNally '12 scored goals for Hamilton, and Mary Lancaster '12 recorded an assist. Victoria Trentini '15 made five saves.

Hamilton (5-6 overall, 3-5 NESCAC) got on the board first 11 minutes, 54 seconds into the first half when Haskins scored off a pass from Lancaster. It was the 18th career goal for Haskins, and she is tied for the team lead with eight in 2011. Lancaster's assist was her first this year, and the eighth of her Hamilton career.

Chessare tied the score at 21:13 on the first of her two goals, and scored again just 48 seconds later to give Colby a 2-1 lead. Lancaster was credited with assists on both goals, and leads the team with three helpers.

McNally scored her first goal of the year on a penalty corner just over three minutes later to even the score at 2-2. She has 19 career goals, and her 62 points place her third on Hamilton's all-time list.

Erskine put Colby (3-8, 1-7) up for good only 13 seconds later with her third goal of the year. O'Connell recorded the first assist of her collegiate career on the goal, which gave the Mules a 3-2 lead at the break. O'Brien added an insurance goal for the Mules off an assist from Sally Klose with 11:07 left in the second half.

Hamilton held a 14-13 shot advantage, and each team was credited with five penalty corners. Michelle Burt recorded six saves for the Mules.

Hamilton travels to Williams College for another NESCAC game on Wednesday, Oct. 19, at 5 p.m.