Field hockey falls to No. 14 William Smith
---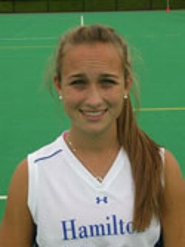 Annie Kietzman '13 posted a goal and two assists to lead nationally ranked No. 14 William Smith College to a 3-2 win over Hamilton College in a non-conference game at Hamilton's Campus Road Athletic Field on Oct. 26.

Taylor Cappello '14 and Sarah Tompson '15 added goals for the Herons, and Melanie O'Connor '14 chipped in an assist. Catherine Hare '15 started in goal and played the first half for William Smith before giving way to Taryn Little '13 at halftime. Little finished the game with two saves.

Nikki Haskins '14 scored twice for the Continentals, and she leads the team with 11 goals in 2011. She also moves into fifth place on the team's career goals list with 21. Mary Lancaster '12 and Gabriele Lenihan '15 were each credited with an assist. Lancaster has 10 assists and 56 points at Hamilton. Victoria Trentini '15 recorded three saves in goal for the Continentals.

William Smith (14-3 overall) has won three consecutive games, while Hamilton suffered its fifth consecutive defeat. The Herons lead the all-time series between the two programs, 30-6-1. Hamilton had won the previous four meetings -- all in overtime.

Hamilton (5-9) got on the board first at 21:57 of the first half. Lenihan sent the ball into the circle from the left side, and Haskins deflected it into the back of the cage to put Hamilton up 1-0. It was the first collegiate point for Lenihan.

William Smith evened the score exactly three minutes later when Kietzman collected the ball on the Herons' offensive side of midfield and went in on a breakaway opportunity. She carried the ball into the circle and put a shot past a charging Trentini for her eighth goal.

The Herons went ahead 2-1 just under two minutes later. Kietzman passed the ball ahead in transition to Cappello, who turned and fired a shot into the cage for her team-high 12th goal of the year.

Hamilton pulled even with just 46 seconds remaining in the first half. Lancaster ran in from the left side of the circle and drilled a centering pass to Haskins, who flicked the ball into the cage to tie the game. It was the third assist of the year for Lancaster.

The Herons scored the go-ahead goal with 12:49 left on a penalty corner. Kietzman played the corner to O'Connor at the center of the circle, who then found Tompson on the left wing. Tompson fired a shot towards the net, and the ball was deflected by a Hamilton defender into the top of the cage. It was the fifth goal for Tompson. O'Connor was credited with her sixth assist, and Kietzman tallied her team-high 10th.

William Smith held a 14-10 shot advantage, and was awarded nine penalty corners to Hamilton's three.

Hamilton travels to Bowdoin College for a NESCAC championship quarterfinal on Saturday, Oct. 29, at 1 p.m.