Field hockey advances to first league final
---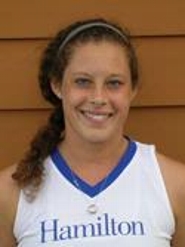 Erin McNally '12 scored the game's lone goal in Hamilton College's 1-0 win against visiting St. Lawrence University in a 2009 Liberty League tournament semifinal game at Campus Road Athletic Field on Nov. 4.
Hamilton (12-3 overall) won its sixth straight game, and earned its first league tournament win. The Continentals -- the tournament's second seed -- advance to the tournament's championship game for the first time. Hamilton will travel to play No. 1 seed Skidmore College at Skidmore at 1 p.m. on Saturday, Nov. 7.
After a scoreless first half dominated by nationally ranked No. 16 St. Lawrence, Hamilton broke through with 25 minutes, 6 seconds remaining in the second half. During a flurry of activity in front of the Saints' cage, Colleen Callaghan '11 controlled a loose ball on the right side and shot it towards the goal. The shot was going wide left, but McNally stopped it a couple yards from the goal and poked the ball into the back of the cage for her sixth goal this season.
Callaghan is tied with McNally for the team lead with six assists. Callaghan also pushed her career total to 23 assists, which is good for second place on the program's all-time list.
Courtney DeMaria '10 stopped all six shots she faced to record her fifth shutout this year. St. Lawrence (12-5) held an advantage in shots, 14-9, and in penalty corners, 11-5.
The Continentals were hosting their first postseason game since 1989. Hamilton has won four of the last five meetings with the Saints. The Continentals improved to 8-1 at home this year.