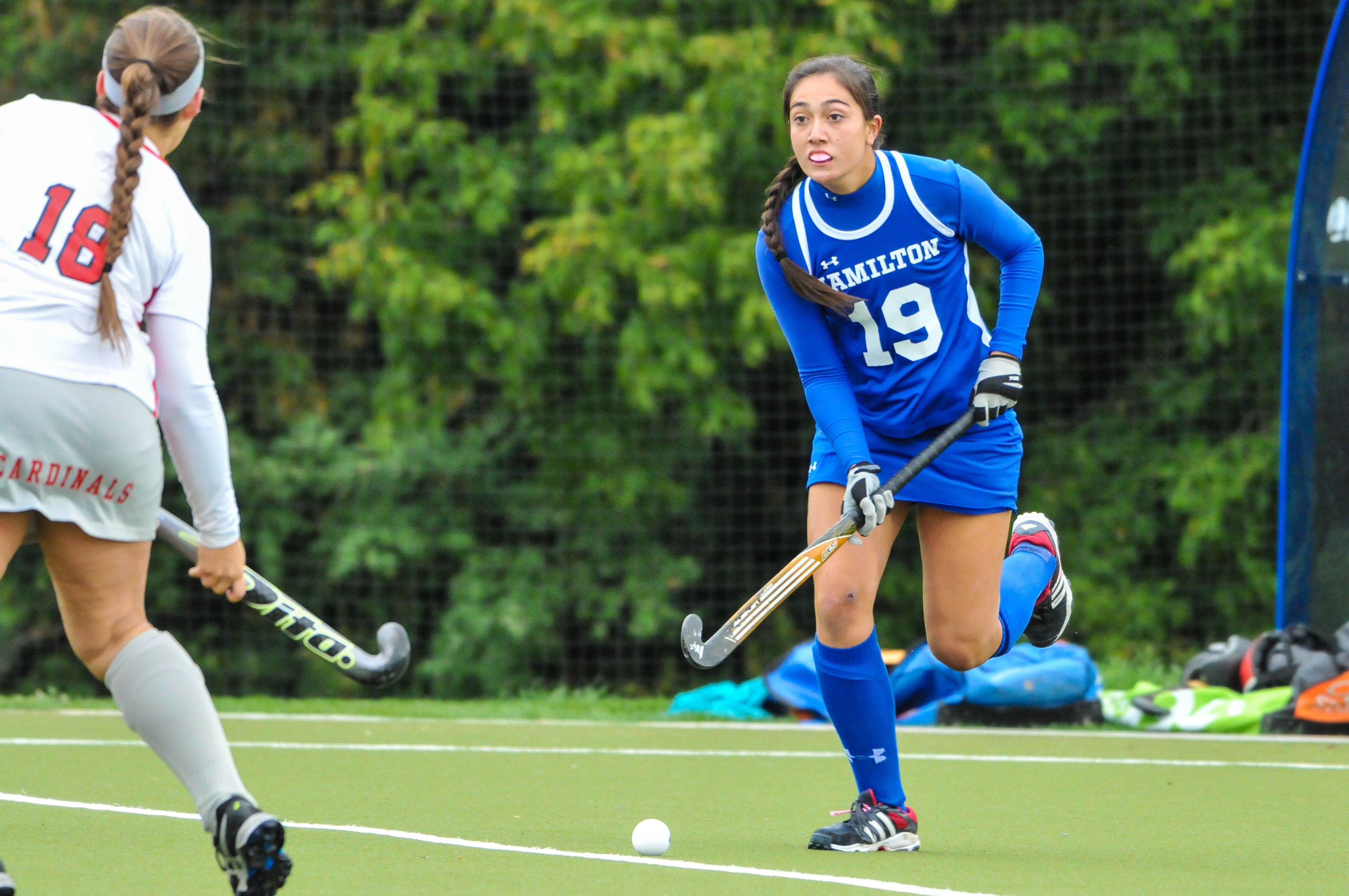 The Hamilton College field hockey team recorded a 3-1 non-league victory at SUNY Oneonta Thursday. The victory was the seventh of 2015 for the Continentals -- the most they've had in a season in six years.

Box Score

Eva Rosencrans '17 scored a pair of goals and Hamilton (7-4 overall) nearly recorded a shutout, holding the Red Dragons scoreless until the final minute.

With seven wins so far this season, the Continentals have their hightest total since the 2009 team won a school-record 13 games.

Casey Brown '16 opened the scoring just 21 seconds before halftime, netting her seventh goal of the fall. Aubrey Coon '16 and Sarah Stinebaugh '19 assisted on the goal; Stinebaugh's assist was her second of the year.

Rosencrans collected her ninth career multi-goal game, scoring twice in the second half. She gave Hamilton a 2-0 lead 12 minutes into the second period by tipping in a shot by Coon, who now has a team-leading five assists.

Another Rosencrans tip-in closed out the Continental scoring with 9:57 left in the game. This time the initial shot came from Margaret Revera '18 and it gave Rosencrans 10 goals on the season.

Rosencrans raised her career totals to 35 goals and 77 points. Her goal total matches Sarah Feyerherm '86 for second on the program's all-time list. She's 10 away from catching Colleen Callaghan '11 atop the Hamilton record book.

Oneonta's Allyson Wells spoiled the shutout, putting the hosts on the board with just 38 seconds left. She took a pass from Nicole Piontkowski and sent a mid-range shot into the Hamilton net for her sixth goal of the year.

Julia Booth '19 stopped seven shots to earn the win. The Continentals outshot Oneonta (4-9) by a 16-9 count.

The Continentals return to NESCAC action Saturday with a 2 p.m. game at Bowdoin. The undefeated Polar Bears are ranked second nationally.