Field hockey rallies, defeats No. 15 William Smith in OT
---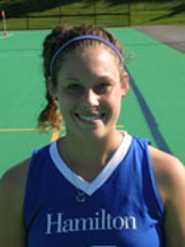 Midfielder Erin McNally '12 scored in the 77th minute to complete Hamilton College's comeback and lift the nationally ranked No. 19 Continentals to a 3-2 overtime win over No. 15 William Smith College in a Liberty League game at William Smith's McCooey Field on Oct. 8.

Hamilton (7-1 overall, 4-0 Liberty) won its fifth straight game. Forward Colleen Callaghan '11 moved into first place on the team's career goals list as she scored her 36th late in the first half. Callaghan also holds program records for assists and points in a career.

The Continentals have rallied to defeat the Herons in overtime each of the past three seasons. In 2009, Hamilton trailed 3-0 at the half and won 4-3. William Smith led 2-1 late in the 2008 game, but the Continentals tied the score with less than four minutes left in the second half, and prevailed in the extra period.

McNally found herself in the right place at the right time. Forward Nikki Haskins '14 nearly played the hero moments before, firing a shot from the right wing that struck the far post behind the Herons goalie Taryn Little. McNally pounced on the rebound, sticking it home for her ninth goal of the year.

It was a well-played, end-to-end match that showcased the speed of both teams. William Smith (9-3, 2-2 Liberty League) jumped out to the early lead, earning a penalty corner in the first minute of action. Sarah Gall drove the insertion from the top of the circle toward the right post, where Taylor Cappello deflected it into the cage for a 1-0 lead.

In the 27th minute, the Herons added to their lead when senior forward Emily Atwan '11 got her stick on a deflection, hitting the back of the cage for the 10th time this year.

Hamilton kept its composure in the face of the two-goal deficit. Charging into the circle in the waning seconds of the first half, Callaghan beat Little with a short shot from the right slot just 19 seconds before the intermission.

McNally earned the assist on the game-tying goal in the 63rd minute, sending a pass from the middle of the circle to Marisa Spagnolo '12 on the right, who deposited the first goal of her Hamilton career.

William Smith had three chances to reclaim the lead in regulation, but missed the cage with one shot and had goalie Molly Brooks '14 stop the other two on a penalty corner after time expired, setting the stage for McNally's heroics.

Brooks finished with seven saves, including one in overtime, to earn the victory. Little recorded five stops for the Herons.

Hamilton will travel to the University of Rochester on Saturday, Oct. 9 to play at 2 p.m.