Field hockey blanked by No. 3 Bowdoin
---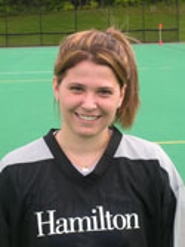 Katie Riley '14 notched three goals as nationally ranked No. 3 Bowdoin College shut out Hamilton College 6-0 in a NESCAC game at Hamilton's Campus Road Athletic Field on Oct. 13.

Liz Znamierowski '16 added two goals and Cathleen Smith '13 tacked on one for the Polar Bears. Smith, Rachel Kennedy '16 and Olivia King '14 contributed one assist each. Kayla Lessard '13 started in goal and was relieved by Hannah Gartner '15 for the final 21 minutes, 43 seconds. Neither goalkeeper made a save in the combined shutout.

Victoria Trentini '15 stopped 16 shots for the Continentals. Katie White '16 came in for the final 21:43 and turned away all four shots she faced. Samantha Sherman '15 made two defensive saves.

Bowdoin (10-1 overall, 6-1 NESCAC) opened the scoring just 4:23 into the first half. Following a penalty corner, Riley collected the rebound after a shot by Brooke Phinney '13 and fired it into the back of the cage.

Riley scored her second goal on a two-on-none breakaway in the ninth minute. Smith brought the ball up on the right side and passed to her left to Riley, who scored on a one-timer.

Znamierowski scored the next two goals in a span of 4:24. Her first goal came at 17:29 on a pass from Kennedy following a penalty corner. The second was an unassisted goal off a rebound in front of the cage. Bowdoin led 4-0 at the half.

In the 44th minute, Riley collected the hat trick as she drove along the goal line and fired a shot past Trentini. King helped account for the final margin just 1:43 later when she played a ball from outside the circle and Smith redirected it for a goal. Bowdoin outshot the Continentals 39-4, and held a 15-4 advantage in penalty corners.

Hamilton (0-11, 0-8) hosts Colby College for a NESCAC game on Sunday, Oct. 14. Bowdoin travels to nationally ranked No. 15 Amherst College on Sunday in a clash of top 20 teams.