Field hockey blanked by Williams
---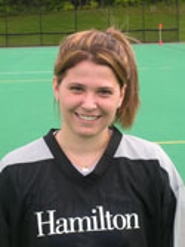 Cary Hairfield '15 and Caitlin Conlon '15 scored one goal apiece as Williams College defeated Hamilton College 2-0 in a NESCAC game at Hamilton's Campus Road Athletic Field on Oct. 2.

Hairfield and Conlon combined to take 12 shots as Williams owned a 23-4 shot advantage. Ariana Spiliotes '14 recorded her third shutout in four games.

Victoria Trentini '15 stopped 14 shots for the Continentals. Trentini entered the week ranked fifth in NCAA Division III with 14.86 saves per game.

The Ephs' goals came two minutes, 41 seconds apart in the first half. Hairfield got Williams on the board with 25:45 left when she controlled a Conlon shot that was saved and fired it into the back of the cage. Conlon added to the Ephs' lead with 23:04 remaining. Her first shot was saved by Trentini, but Conlon collected the rebound and scored on the second try.

Williams (5-3 overall, 3-2 NESCAC) didn't score again, despite enjoying a 8-0 advantage in penalty corners during the second half. The Ephs finished the game with a 10-2 cushion in corners.

The Continentals (0-8, 0-6) travel to Vermont for a NESCAC matchup with nationally ranked No. 2 Middlebury College on Saturday, Oct. 6. Williams will continue its road trip at No. 14 Amherst College on Saturday.