Field hockey breezes to win over Morrisville State
---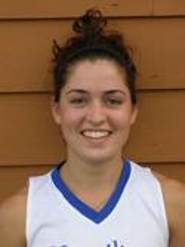 Mary Lancaster '12 scored two goals and assisted on another as Hamilton College set a team record for wins in one season with a 7-1 rout of visiting Morrisville State College in a non-league game played at Campus Road Athletic Field on Oct. 31.

Hamilton (11-3 overall) extended its win streak to five games. The Continentals' previous record for wins in a season was 10, which was set in 1990 and matched in 1991. Morrisville State (5-14) finished the season with a seven-game losing skid.

Hamilton will host a Liberty League tournament semifinal game as the second seed against No. 3 seed St. Lawrence University on Wednesday, Nov. 4. The start time has yet to be determined. The Continentals rallied to defeat St. Lawrence 4-2 at home on Oct. 3.

Lancaster opened the scoring with 22:56 left in the first half off an assist from Amy Allen '10. In the 24th minute, Colleen Callaghan '11 scored her first goal of the afternoon on a rapid exchange of passes between her and Lancaster in the circle. Lancaster got involved again in the 28th minute with her seventh tally this season.

With just 1:27 left in the first half, Catie Torcivia '12 scored her fifth goal of the year and her third in the last two games off the bench. Erin McNally '12 was credited with the assist as Hamilton took a 4-0 lead into the break.

Callaghan scored her second goal of the game on a nice individual effort 110 seconds into the second half. She stick-handled through several defenders, into the circle and slapped a shot into the back of the cage. Callaghan leads the team with 11 goals and 27 points. She tied Jess Goldberg '08 for second place on the team's all-time list with 25 goals.

Morrisville State got on the scoreboard in the 54th minute to pull within 5-1. Just 1:30 later, Allen took advantage of a penalty corner to score her sixth goal of the season. McNally entered the ball to Allen, who stopped it and fired a hard shot past the helpless goalie. Allen has scored 17 goals in her collegiate career. McNally was credited with her second assist of the day. She leads the team with six assists and has 14 at Hamilton. McNally finished up the scoring with 2:18 left in the second half when her shot found the back of the cage.

The Continentals enjoyed a 23-7 shot advantage, and were awarded 18 penalty corners to 11 for Morrisville. Hamilton has won all three games in this series, which started in 2007. All three wins have been by six goals. Courtney DeMaria '10 needed to make just one save to pick up the victory as her goals against average dropped to 1.56.