Field hockey roars back to defeat St. Lawrence
---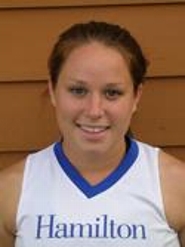 Four different Hamilton College players scored a goal in the nationally ranked No. 20 Continentals' 4-2 win over St. Lawrence University in a Liberty League game at Campus Road Athletic Field on Oct. 3.
Hamilton (5-2 overall, 3-0 Liberty) got on the scoreboard first as Erin McNally '12 scored her third goal this season just 1 minute, 34 seconds into the first half. St. Lawrence (6-2, 2-1) answered with a goal a little over five minutes later. The Saints scored again to take the lead in the 12th minute.
Amy Allen '10 tied the score with her fourth goal off a pass from Sarah Flisnik '12 with 21:12 left. Allen has scored a goal in each of Hamilton's last four games.
The Continentals took back the lead when Colleen Callaghan '11 scored on a penalty stroke with 16:54 left in the second half. Callaghan leads the team with seven goals and 18 points. Five minutes, 32 seconds later, Mary Lancaster '12 added to Hamilton's lead with her third goal of the season off the first collegiate assist for Holly Rodiger '11.
Courtney DeMaria '10 finished with eight saves. St. Lawrence held an advantage in shots, 14-12. The Saints took 11 corners while the Continentals took seven.
Hamilton is tied for first place in the league standings with Skidmore College. Both teams are 3-0 in the league. The Continentals ended St. Lawrence's win streak at six games.
Hamilton returns to action on Friday, Oct. 9, when the Continentals travel to Union College for a league game at 4 p.m.