Field Hockey cruises to win in league opener
---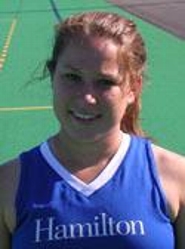 Hamilton College's Colleen Callaghan '11 became the program's career leader in points and the Continentals routed Vassar College 7-0 in the Liberty League field hockey opener for both teams at Hamilton's Campus Road Athletic Field on Sept. 24.
Callaghan finished with two goals and two assists to lead Hamilton to its fifth straight win against the Brewers. She has 29 goals and 32 assists for 90 career points. Sarah Feyerherm '86 held the old team record of 85 points.
Catie Torcivia '12 chipped in two goals and one assist, Caitlin Livsey '12 and Erin McNally '12 added one goal and one assist apiece and Nikki Haskins '14 came off the bench to score one goal for the Continentals. Molly Brooks '14 made two saves and recorded her second shutout.
Hamilton (3-1 overall) sprinted out to a 3-0 lead with three goals in a span of 4 minutes, 42 seconds midway through the first half. McNally tallied her fourth goal this year as the Continentals converted on a penalty corner with 24:48 left in the first half. Torcivia followed with a pair of goals just 123 seconds apart. Marisa Spagnolo '12 was credited with an assist on Torcivia's second goal. Hamilton led 3-0 at the half.
Callaghan broke the points record with her first goal of the afternoon 3:03 after the break. Livsey notched her goal a little more than three minutes later for a 5-0 advantage. Callaghan recorded her third goal of the season as she maneuvered around the goalie, who had ventured way out to stop her, and slapped the ball into an empty cage with 19:47 left. Haskins completed the scoring with 14:33 remaining.
Rachel Horwitz '11 and Maggie Brelis '14 combined to make 12 saves for Vassar. The Brewers (2-5) have lost all five games away from home. The Continentals held a 29-8 shot advantage and took 13 penalty corners to Vassar's six. Hamilton leads the all-time series, 16-6-1.
The Continentals host Rensselaer for another league game on Saturday. The Brewers travel to St. Lawrence University for another league game on Saturday as well.