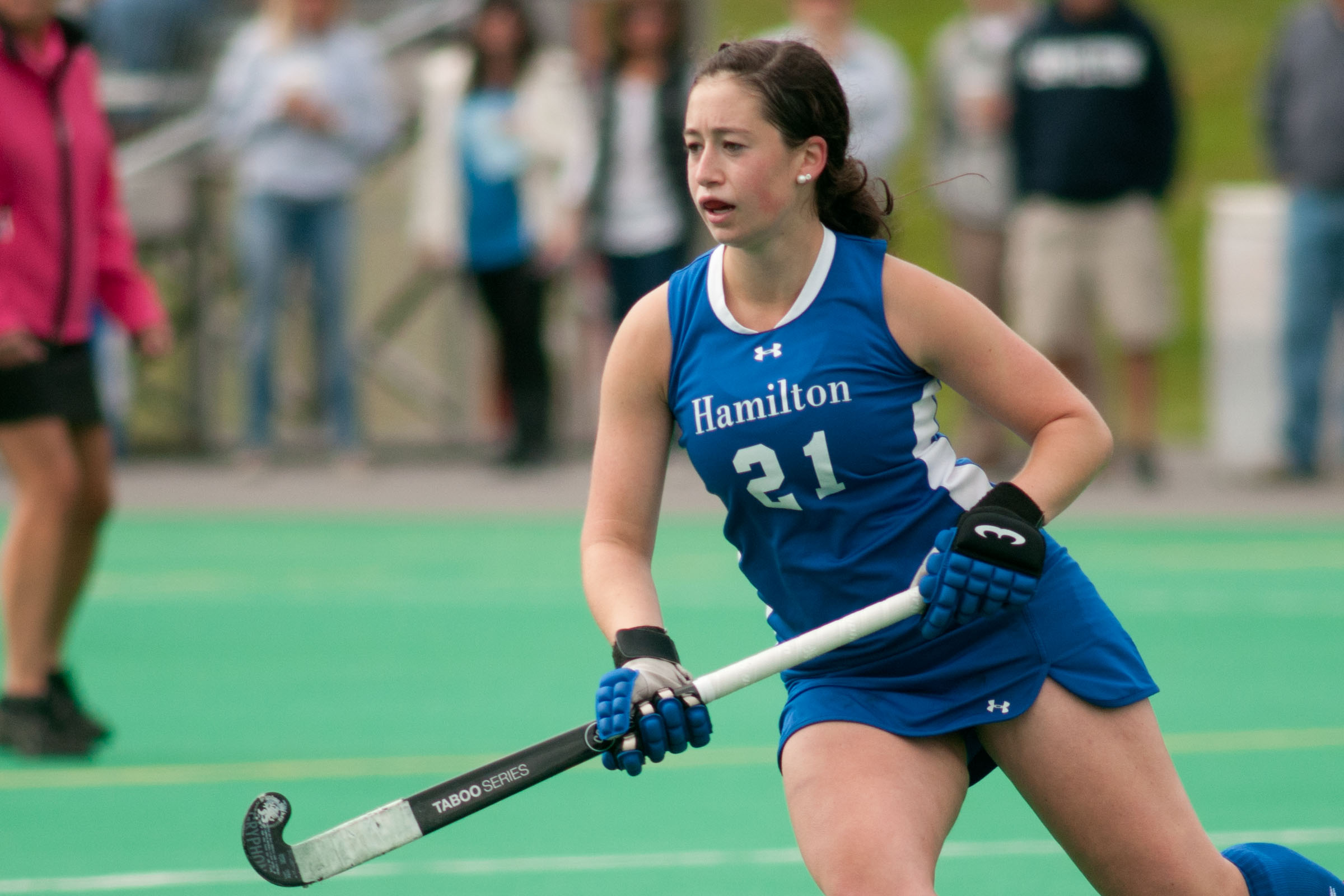 Middlebury College's Hollis Perticone '18 scored two goals and added an assist as the nationally ranked No. 3 Panthers cruised to a 7-0 NESCAC win against the Hamilton College Continentals at Hamilton's Campus Road Athletic Field on Oct. 12.

Box Score

Middlebury (11-1, 7-1 NESCAC) extended its win streak to seven games. The Panthers enjoyed a 28-5 shot advantage and were awarded 11 penalty corners to two for the Continentals (6-6, 2-5).

Catherine Fowler '15 scored two goals and leads Middlebury with eight. Lauren Berestecky '17, Audrey Quirk '18 and Josie Trichka '17 chipped in one goal each. Fifteen players have scored at least one goal for the Panthers this year. Shannon Hutteman '16 was credited with two assists and Emily Knapp '15 made two saves for her third shutout.

Victoria Trentini '15 stopped 11 shots and Sam Sherman '15 recorded a pair of defensive saves for Hamilton. Sherman leads the NESCAC with six defensive stops in 2014.

Middlebury grabbed a 1-0 lead on its 15th shot of the afternoon. Following a Panther penalty corner, Trentini turned away a shot by Pam Schulman '17 but Hutteman controlled the rebound and found Fowler for the goal with 7:44 left in the first half.

The Fowler-Hutteman combination worked again for Middlebury's second goal with 5:24 remaining in the first. Fowler inserted the ball on another corner and one-timed a pass from Hutteman from about five yards away from the cage.

The Panthers made it 3-0 with 2:34 to go in the half. Alyssa DiMaio '15 carried the ball into the circle along the end line from the right side and passed to Perticone, who redirected the ball inside the near post.

Eva Rosencrans '17 had the best chance at putting the Continentals on the scoreboard. Rosencrans hammered a high, hard shot from the left side that Knapp knocked away with her glove with four minutes left in the first half. Middlebury held a 3-0 advantage at the break.

Berestecky increased the lead to 4-0 on her seventh goal this year 4:12 into the second half. After Trentini stopped a shot by Schulman, Berestecky tapped in the rebound.

Perticone increased the lead to five goals on her seventh this year with 23:20 left. Anna Kenyon '16 found Perticone behind the defense on the left side. Perticone maneuvered toward the middle of the circle and put a shot past a diving Trentini after a couple of stick moves.

Perticone set up Trichka for her second goal this year with 7:51 remaining and Quirk notched her first goal this season on a pass from Caroline Knapp '18 just 57 seconds later.

The Panthers lead the all-time series with the Continentals, 11-2. Hamilton travels to Colby College for another conference game on Saturday, Oct. 18. Middlebury hosts Bates College in NESCAC action on Saturday as well.