Field hockey drops heartbreaker in Liberty League final
---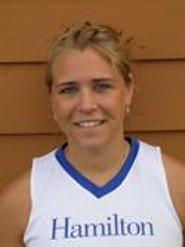 Hamilton College rallied from a two-goal deficit in the second half, but the visiting Continentals were edged 3-2 in overtime by nationally ranked No. 9 Skidmore College in the 2009 Liberty League tournament final at Thoroughbred Field on Nov. 7.
Hamilton (12-4 overall) made its first-ever appearance in the league championship game in the program's second trip to the tournament. The second-seeded Continentals suffered their first loss since Oct. 10 when they fell 4-1 to Skidmore. The Thoroughbreds (16-3) won their fourth league tournament title.
The Thoroughbreds got on the scoreboard with 18 minutes, 35 seconds left in the first half. Top-seeded Skidmore scored again in the 22nd minute to secure a 2-0 lead going into the break.
The Continentals came out strong in the second half, earning nine of their 13 corners in the period. Hamilton cut Skidmore's lead to one with 11:48 remaining in the second half. After a penalty corner, Amy Allen '10 fired a shot into the back of the cage off a pass from Colleen Callaghan '11. The goal was Allen's seventh this season.
With 10:16 remaining in regulation, Catie Torcivia '12 tallied her sixth goal of the season, and tied the score. Allen, who received all-tournament team honors, was involved again as she sent the pass to Torcivia after another penalty corner.
Hamilton fought hard in overtime, and earned three penalty corners. Erin McNally '12 sent a shot at the goal 5:24 into overtime, but the Skidmore goalie was there to make the save. McNally also was named to the all-tournament team. Skidmore scored the game-winning goal on a diving shot with 3:58 left in the first sudden-victory overtime.
Courtney DeMaria '10 finished the game with 10 saves, and received all-tournament team honors. The fourth Continental on the all-tournament team was Marisa Spagnolo '12. Skidmore outshot the Continentals, 17-7. Hamilton led in penalty corners, 13-11.