Field hockey edged by Bates
---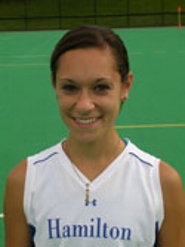 Caroline Falcone '15 scored two goals and Bates College edged Hamilton College 3-2 for the Bobcats' first NESCAC win this year at Hamilton's Campus Road Athletic Field on Sept. 29.

Falcone leads Bates with five goals. Polly Merck '14 chipped in one goal and one assist, and Lexie Carter '14 was credited with an assist. Becca Otley '14 made seven saves.

Madison Molho '14 scored her first collegiate goal for the Continentals. Lauren King '16 notched her first goal at Hamilton and Caroline Clarke '14 picked up an assist. Victoria Trentini '15 started in goal and made seven saves. Katie White '16 relieved Trentini with 16:08 left in the second half and stopped both shots she faced.

The Continentals (0-7 overall, 0-5 NESCAC) grabbed a 1-0 lead with 26:18 left in the first half. Clarke carried the ball into the left side of the circle and pulled Otley off her line. Clarke passed left to a wide open King, who swept the ball into the back of the cage.

The Bobcats (3-4, 1-3) seized control by scoring the next three goals. Falcone tallied her first of the day on a pass from Merck just four minutes after Hamilton's goal. Merck leads Bates with four assists. The score was knotted at 1-1 at the break.

Merck put the Bobcats ahead for good with 25:01 remaining in the second half. Her goal immediately followed two straight Bates penalty corners. The Bobcats held a 12-10 edge in corners. Falcone made it 3-1 with 20:50 left. Her initial shot deflected off Trentini and the ball trickled past the goalie to the left edge of the goal. Falcone followed the rebound and stuffed it into the cage.

Molho provided some anxious moments late thanks to her goal with 3:37 remaining. Charlotte Lescroart '13 put a shot on Otley that was deflected away. The long rebound came out to Molho, who fired a one-timer past the goalie.

The Continentals didn't get another shot off in the final minutes. Bates owned an 18-15 shot advantage.

Hamilton hosts Williams College for another NESCAC game on Tuesday, Oct. 2. The Bobcats travel to Bowdoin College on Tuesday for more conference action.