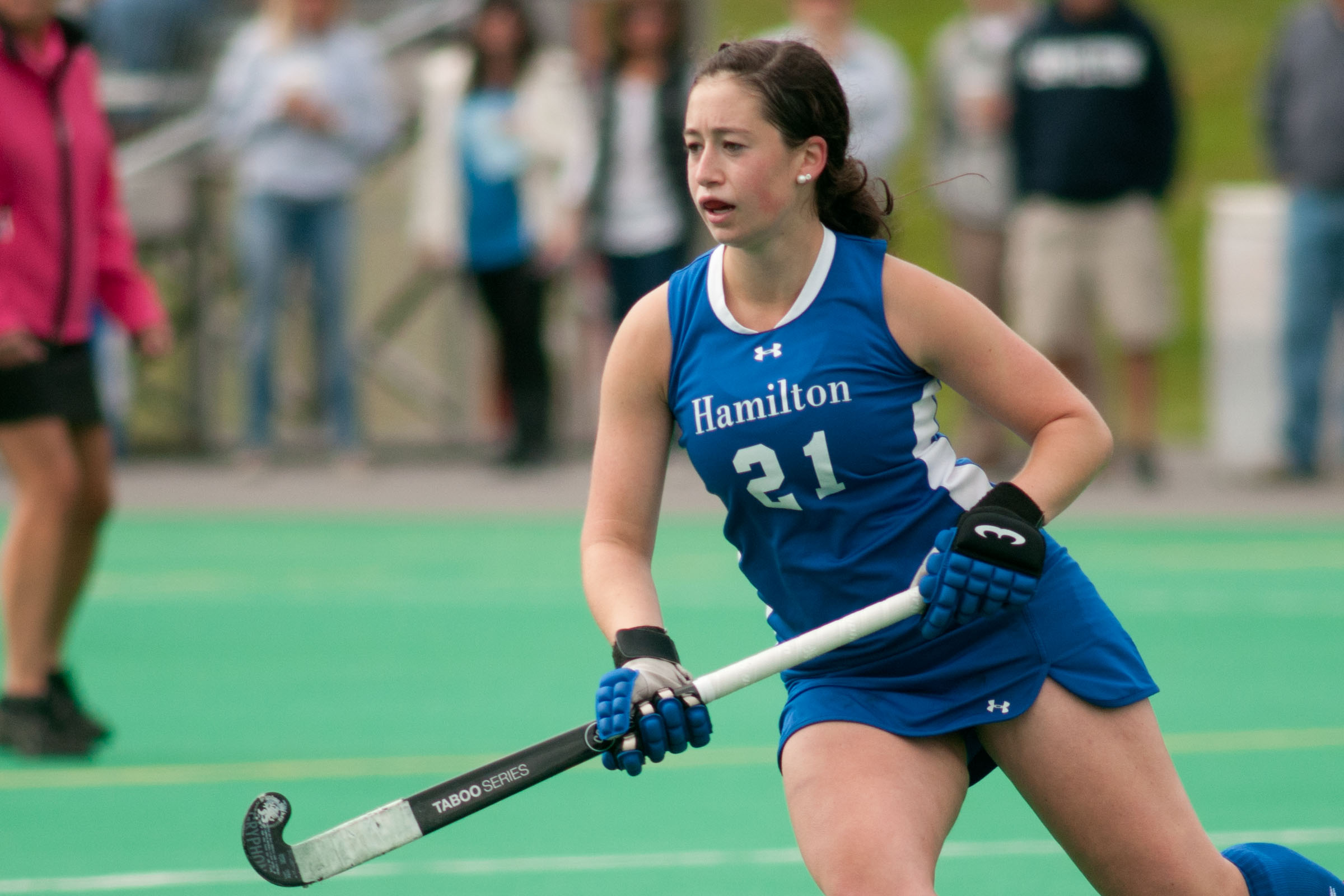 The Hamilton College field hockey team (6-4) broke a three-game losing streak, knocking off SUNY Oneonta 6-1 in a non-conference game on Wednesday evening at Campus Road Athletic Field. The Continentals scored five goals in a span of just over 20 minutes to break a scoreless tie.

Box score

Eva Rosencrans '17 scored two goals and Sam Sherman '15 contributed a pair of assists to lead the Continentals' offense, which is averaging 3.4 goals per game this fall – the program's second-highest mark in the past 11 years.

Rosencrans netted a pair of goals in the second half for her fifth multi-goal performance of 2014. She entered the game ranked sixth nationally in goals per game and eighth in points per game.

Following 30 scoreless minutes, Margaret Revera '18 put the Continentals on the board with her first collegiate goal. Sherman controlled a penalty corner inserted by Emma Anderson '17 and stopped by Aubrey Coon '16, then played the ball to the left side to Revera, who beat Oneonta goaltender Tess Tracy '15 inside the near post. Just over three minutes later, Casey Brown '16 took a pass from Katherine Guzzetta '18 and converted it for her fifth goal of the year. Guzzetta's assist was the first point of her career.

Rosencrans opened the second-half scoring 8:33 into the period, tipping in a Revera shot. Revera back-handed the ball from the left side across the goal mouth to Rosencrans, who put it into the right side of the cage. The Continentals scored on a similar play 2:44 later. Brown sent a shot from the left side and Katey Hopper '15 tipped it into the wide-open right side of the cage.

At the 49:58 mark Coon sent a pass from high at the left post to an open Merisa Dion '17 at the right post. Dion's goal was her third of 2014.

Oneonta averted the shutout in the 51st minute on a goal by Andrea Day '15. The Red Dragons' leading scorer, Day received a penalty corner inserted by Sara Rattigan '16 and lofted a high shot that sailed into the top right corner of the cage.

Rosencrans closed out the scoring with 13:15 remaining, converting a Sherman pass for her conference-leading 16th goal. Her 16 goals this year rank second on the program's single-season list and are three short of the school record set by All-American Colleen Callaghan '11 in 2010. With 24 goals in her 23-game career, Rosencrans moved into fifth place on Hamilton's career list and is three goals away from moving into third place.

Hamilton's Victoria Trentini '15 finished with three saves, including a key stop on an Oneonta breakaway with four minutes left. She came out of the net to make a stop on Kelcy Forbragd '15 and the rebound went directly to Day, but her waist-high shot went wide.

Tracy stopped four shots in the first half and Krista Servedio '16 made a pair of second-half saves.

Hamilton hosts two NESCAC games as part of Fallcoming/Family Weekend and both opponents are ranked in the top three of this week's Division III coaches poll. The Continentals face No. 2 Bowdoin on Saturday, Oct. 11, at noon and take on No. 3 Middlebury on Sunday at 1 p.m. Oneonta plays a non-league game at Bates on Saturday.