Field hockey loses second straight one-goal game
---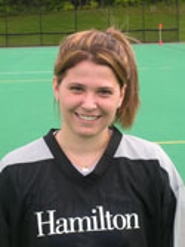 Trinity College's Paula Shea scored with 6:58 left in the first half and the nationally ranked No. 19 Bantams held on for a 1-0 NESCAC win against the Hamilton College Continentals at Trinity's Sheppard Field on Sept. 7.

Anne Scalambrino made Shea's goal stand up as she turned away all three shots she faced. Scalambrino has not been scored on after two games this year.

The Bantams (2-0 overall, 1-0 NESCAC) enjoyed a 22-6 shot advantage, including 10-1 in the first half. Trinity was awarded nine penalty corners to Hamilton's two for the afternoon.

Victoria Trentini '15 kept the Continentals (0-2, 0-1) in the contest by making nine saves. Sam Sherman '15 was credited with a defensive stop as well.

Hamilton hosts Utica College for a non-conference game on Wednesday, Sept. 11, at 5:30 p.m.