Conn. College edges field hockey team
---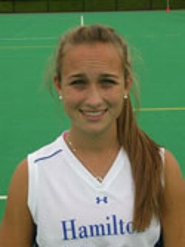 Connecticut College's Jillian Dahrooge scored two goals and assisted on the other and the host Camels edged the Hamilton College Continentals 3-2 in a NESCAC game on Sept. 21.

After the Camels (3-1 overall, 1-1 NESCAC) scored twice in a 73-second span in the first half, Nikki Haskins '14 put Hamilton on the board just 10 seconds before halftime. Caroline Ames '17 took a shot that was stopped but Haskins was there to put in the rebound for her first goal this season and her 22nd for the Continentals.

Eva Rosencrans '17 tied the score for Hamilton (1-3, 1-2) with an unassisted goal in the second half. Rosencrans tipped in a shot at the right post for her team-leading third goal. Katie White '16 made her first career start in goal and recorded three saves.

Dahrooge, who scored the Camels' first goal and assisted on their second, notched the game-winner late in the second half. All four of Hamilton's games this year have been decided by one goal.

The Continentals travel to Morrisville State College for a non-conference game on Tuesday, Sept. 24.