Field hockey edged at Williams
---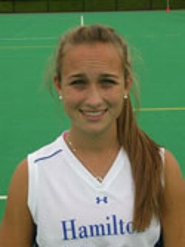 Margie Fulton scored with 23:45 left in the second half to break a 1-1 tie and lift Williams College to a 2-1 win against Hamilton College in a NESCAC game at Williams' Renzie Lamb Field on Oct. 20.

Nikki Haskins '14 scored her team-high ninth goal of 2011 for Hamilton, and leads the Continentals with 20 points. Haskins has 19 goals for her Hamilton career. Mary Lancaster '12 was credited with her second assist this year and the ninth of her career. Victoria Trentini '15 stopped nine shots.

The Continentals (5-7 overall, 3-6 NESCAC) lost their third straight game --all on the road. Hamilton is in eighth place in the NESCAC standings with one conference game remaining. The Ephs are seventh, just one-half game ahead of the Continentals. The top eight teams advance to the NESCAC Championship, which begins on Saturday, Oct. 29.

Williams (6-6, 3-5) grabbed a 1-0 lead with 24:22 left in the first half when Betsy Hart '14 fired a shot into the Hamilton net off a penalty corner. Caitlin Conlon '15 and Cary Hairfield '15 were each credited with an assist.

Haskins tied the score with 10:39 remaining before the break when her shot off a Hamilton penalty corner found the back of the Williams net. Lancaster was credited with the assist. The teams went to the half locked in a 1-1 tie.

The Ephs enjoyed a 19-3 shot advantage, and were awarded 14 penalty corners to Hamilton's two. The Continentals defeated Williams each of the past two years when Hamilton was still a member of the Liberty League.

The Continentals host nationally ranked No. 13 Tufts University for another NESCAC game on Saturday, Oct. 22. Hamilton will hold a Senior Day ceremony for its eight members of the Class of 2012 before the contest.