Field hockey edged by No. 15 Trinity
---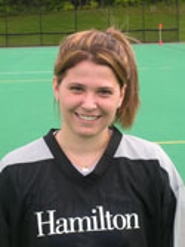 Olivia Tapsall '16 came off the bench to score two goals and lead nationally ranked No. 15 Trinity College to a 3-2 win against Hamilton College in a NESCAC game at Hamilton's Campus Road Athletic Field on Sept. 8.

This was the first game of 2012 for both teams. Trinity thoroughly dominated the contest with 39 shots to five for the Continentals, and the Bantams enjoyed a 10-2 advantage in penalty corners.

Haley Thompson '13 scored the other goal for Trinity. Sophie Doering '15, Julia Rivera '14 and Sarah Duncan '14 were all credited with assists. Anne Scalambrino '14 did not make a save in goal for the Bantams.

Caroline Clarke '14 and Katey Hopper '15 scored one goal apiece for Hamilton. Charlotte Lescroart '13 and Kate Anderson '16 picked up the assists. Hopper's goal was her first for the Continentals, and Anderson recorded her first collegiate point.

Victoria Trentini '15 kept Hamilton in the game with 16 saves, which is her second-highest total for the Continentals. Trentini made 31 stops in a game at Bowdoin College last year.

Clarke gave Hamilton a 1-0 lead with 15:07 left in the first half when she tipped in a shot by Lescroart. Trinity scored the next three goals. Thompson started the rally with 9:20 remaining before the break when she poked the ball past Trentini following a penalty corner. Rivera and Duncan had the assists, and the teams went to the half tied at 1-1.

The Bantams took the lead for good with 25:35 left. Doering carried the ball into the left side of the circle, found Tapsall in front of the goal and Tapsall hit a one-timer into the back of the cage. Tapsall made the score 3-1 with 17:54 remaining. Thompson fired a shot on goal that was saved by Trentini, but Tapsall was there to knock in the rebound.

The Continentals cut their deficit back to one goal just 78 seconds later. Lescroart squeezed off two shots that were blocked in front and the loose ball squirted out to Anderson, who passed to Hopper for the goal from point-blank range on the left side of the cage. That was the last shot of the afternoon for Hamilton.

The Continentals travel to nearby Utica College for a non-conference game against their local rivals on Wednesday, Sept. 12. Trinity hosts Williams College for another NESCAC game on Saturday, Sept. 15.