Field hockey edged in NCAA tournament opening round
---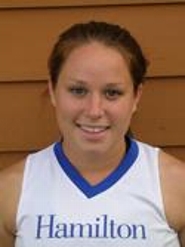 Hamilton College was edged 2-1 by the College of Wooster in a 2009 NCAA Division III tournament first round game at Andrew Turf Field at John P. Papp Stadium on Wednesday, Nov. 11.
Hamilton (12-5 overall) was making its first appearance in the NCAA tournament after receiving one of the six at-large bids to the 24-team tournament. The College of Wooster (17-5) advances to play nationally ranked No. 2 Salisbury University in Salisbury, Md., in the second round on Saturday, Nov. 14.
Hamilton came out strong in the first half, earning nine corners, five coming in the first 11 minutes. The Continentals had scoring opportunities early when Amy Allen '10 took a shot that went wide after a corner, and Holly Rodiger '11 had a shot saved by a Wooster defender.
In the 14th minute, Colleen Callaghan '11 broke through for the Continentals with her 12th goal of the season. Catie Torcivia '12 had control of the ball at the top of the circle, and the Wooster goalie came out of the goal to play the ball. Torcivia pushed a short pass ahead to Callaghan, who sent the ball into the back of the cage.
With 4 minutes, 10 seconds remaining in the first half, Courtney DeMaria '10 came up with a huge save when a Wooster player broke through the Hamilton defense for a one-on-one opportunity. A little over a minute later, DeMaria (four saves) had another key stop off a bouncing shot on goal by Wooster. After the series of opportunities, the Fighting Scots tied up the score at 1-1 on a goal with 2:12 left in the opening half.
Hamilton opened the second half with Callaghan and Torcivia firing shots on goal in the opening five minutes. Mary Lancaster '12 also sent a shot at the left side of the goal with 20 minutes left in the half, but the Wooster goalie again came up with a save.
Wooster broke the tie with 19:28 left. One of the Fighting Scots dribbled the ball down the field, and around a Hamilton defender before she sent a shot into the back of the cage for Wooster's 2-1 lead.
Hamilton came very close to tying the score again with 11:54 left. Callaghan sent a shot at the right side of the goal, but the Wooster keeper stepped up and made the save. With a little over a minute remaining, Erin McNally '12 sent a shot at the goal that was blocked by a Wooster defender.
Hamilton led in shots with 18 to Wooster's eight. The Continentals also held a 12-8 advantage in corners.

This story appeared in the November issue of eNews.