Field hockey edged in overtime
---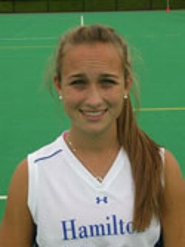 Megan Warning scored three goals, including the game-winner with 10:18 left in the first sudden-victory overtime period, to lead SUNY Oneonta to a 4-3 win against Hamilton College in a non-conference game at Oneonta's All College Field on Oct. 4.

Jacqueline Camp scored the other goal for the Red Dragons, and was credited with a defensive save. Ashley Johnson picked up two assists and Ashley Morgan had one. Tess Tracy turned away eight shots.

Hamilton (4-3 overall) was led offensively by Nikki Haskins '14, who scored two goals. Haskins is tied for the team lead with six goals and leads the Continentals with 14 points. She has 16 career goals. Marisa Spagnolo '12 notched the other goal, and Victoria Trentini '15 made five saves.

Hamilton held a 17-10 shot advantage, and was awarded 11 penalty corners to nine for Oneonta. The Continentals never led, but tied the score three times.

Morgan set up the game-winning goal with a great pass from midfield forward. Warning went to goal and banged a shot that trickled over Trentini as she came out to try and defend.

Warning opened the scoring with 10 minutes left in the first half off a deflected shot from Johnson. Hamilton answered back three minutes later when Spagnolo pulled a move past a Red Dragon defender and blasted the ball to the back of the cage for her first goal of 2011.

Oneonta (7-4) regained the lead 10 minutes into the second half when Johnson passed to Camp, who redirected the ball into the cage. Seconds later, the Continentals earned a corner, and Haskins capitalized off a rebounded shot to tie the score at 2-2.

Warning then took charge in the circle, scoring off a loose ball to put the Red Dragons back on top with 19 minutes left in regulation. Hamilton fought back hard in the later stages of play, and scored with 42 seconds left when Haskins picked up a loose ball and tied the score again.

The Continentals host nationally ranked Middlebury College for a NESCAC game on Saturday, Oct. 8.