Field hockey ends regular season on high note
---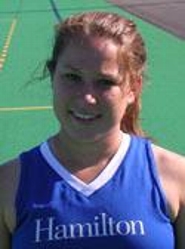 Colleen Callaghan '11 scored three goals to help lead nationally ranked No. 15 Hamilton College to a 7-2 rout of Morrisville State College in a non-league game at Morrisville on Oct. 27.

Hamilton (12-2 overall) tied the team record for wins in a season, which was set in 2009. The Continentals established a program record for goals in a season with 52. The old record of 47 had stood since 1985.

The regular season is over, but Hamilton is in the postseason for the third straight year. The Continentals host William Smith College for a Liberty League tournament semifinal game on Wednesday, Nov. 3, at 5 p.m.

Callaghan entered the night tied with Sarah Feyerherm '86 for most goals in a season at Hamilton with 15, and now owns the record with 18. She leads the team with 47 points. She holds program records for career goals, assists and points, and goals and points in a season.

Catie Torcivia '12 and Erin McNally '12 scored one goal and added one assist apiece. Caroline Clarke '14 scored her first collegiate goal, Caitlin Livsey '12 tallied her fifth this year and Marisa Spagnolo '12 was credited with an assist. Molly Brooks '14 made two saves.

Torcivia gave the Continentals a 1-0 lead just 2:24 into the first half when she scored from the top of the circle after a self-start. McNally made the score 2-0 with 19:18 left in the half on her 10th goal off a penalty corner drive at the top of the circle.

Morrisville (8-8) cut its deficit in half just 30 seconds later. Callaghan started a five-goal run 80 seconds before the break after she dodged the goalie and put a shot into an empty cage. Hamilton led 3-1 at the half.

The Continentals turned up the pressure in the second half. Livsey tipped in a goal 3:29 into the second half. Callaghan scored unassisted from the center of the circle with 22:38 remaining. Clarke re-directed Spagnolo's drive from outside the circle past the goalie with 13:36 left, and Callaghan completed the hat trick on a blast with 11:09 remaining. The Mustangs added the final goal with 3:17 left.

Hamilton enjoyed a 36-11 shot advantage and was awarded 12 penalty corners to two for Morrisville.