Field hockey falls at No. 8 Tufts
---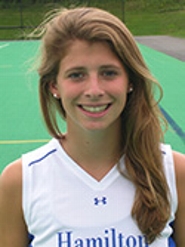 Nationally ranked No. 8 Tufts University received goals from four different players and the Jumbos handed Hamilton College a 4-1 loss in a NESCAC game at Tufts' Bello Field on Oct. 20.

Maggie Chapman '15 led the charge with a goal and an assist for the Jumbos, who won their 12th straight game. Chelsea Yogerst '14, Hannah Park '16 and Emily Cannon '14 scored one goal each and Missy Karp '13 chipped in one assist. Brianne Keenan '15 didn't make a save.

Katey Hopper '15 scored on a breakaway for her second goal of the year. It was the first goal Tufts allowed in five games. Victoria Trentini '15 racked up 14 saves. Trentini is ranked fourth in NCAA Division III in saves per game.

Hamilton (0-13 overall, 0-10 NESCAC) opened the scoring with 20:31 left in the first half on Hopper's unassisted goal. The Jumbos rallied for a 2-1 lead at the break with two goals in the final six minutes of the half. Yogerst tied the score on a breakaway goal with 5:39 to go. Chapman then found Park with only 30 seconds left.

Cannon connected on a penalty stroke for a 3-1 lead early in the second half after Trentini knocked down a Tufts player. Trentini saved a second Jumbos' penalty stroke with 3:43 remaining. Chapman added an insurance goal with 20 seconds left on a pass from Karp.

Tufts (12-1, 8-1) enjoyed a 32-2 shot advantage. Both shots by the Continentals came in the first half. The Jumbos were awarded 15 penalty corners to none for Hamilton.

The Continentals wrap up their season with a non-conference game at nationally ranked William Smith College on Wednesday, Oct. 24. Tufts hosts Bowdoin College with second place in the NESCAC on the line on Wednesday.