Field hockey falls in league tournament final
---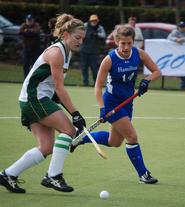 Christine Kemp '11 scored two goals and assisted on two others to lead nationally ranked No. 7 Skidmore College to a 4-1 victory against No. 14 Hamilton College in the 2010 Liberty League tournament championship game at Skidmore's Thoroughbred Field on Nov. 6.

Hamilton (13-3 overall), which was seeded second in the tournament, was making its third league tournament appearance in program history. The Continentals lost 3-2 in overtime at Skidmore in the 2009 title game. Hamilton must wait until Monday morning, Nov. 8, to find out if they will receive a second straight at-large bid to the NCAA championships.

No. 1 seed Skidmore (18-1 overall) earned the league's automatic bid to the NCAA championships with its third straight tournament title, and fifth overall. The Thoroughbreds entered the game ranked No. 1 in the North Atlantic Region by the NCAA. The Continentals are ranked fourth in the region. The NCAA championships begin on Wednesday, Nov. 10.

Skidmore opened the scoring 5:26 into the first half with Kemp's first goal. The Continentals' Colleen Callaghan '11 was close to scoring in the seventh minute when her shot hit off the post.

The Continentals played strong defense to keep the score at 1-0 for the first 49 minutes. With two minutes left in the first half, Marisa Spagnolo '12 stopped a shot by Kemp to keep the score 1-0 at the half.

Less than 15 minutes into the second half, Skidmore went up 2-0 after Kemp sent a pass across the circle where Jess Dankner '12 hammered the ball home from in front of the cage. At the 53:14 mark, Kemp made a few moves on a defender, and blasted a shot from the top of the circle for her 25th goal to give the Thoroughbreds a 3-0 lead.

Nikki Haskins '14 scored Hamilton's lone goal with 5:42 left in the second half after a scramble in the goal mouth. The goal was Haskins' 10th of the season, and pulled the Continentals within 3-1. But less than a minute later, Skidmore responded as Rosencrans took a feed from Kemp and scored to account for the final margin.

The Thoroughbreds outshot the Continentals 18-10, and had an 11-6 advantage in corners. Hamilton goalie Molly Brooks '14 made seven saves, and Liz Catinella '11 had five saves for Skidmore.

Callaghan, Erin McNally '12 and Spagnolo were Hamilton's representatives on the all-tournament team after Saturday's game.