Field hockey falls to nationally ranked SUNY Cortland
---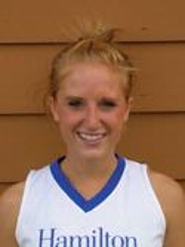 Hamilton College lost 4-1 to nationally ranked No. 6 SUNY Cortland in a non-league game played at Campus Road Athletic Field on Sept. 15.

Carly Andrascik '11 gave Hamilton an early 1-0 lead on her first goal this season with 25:59 left in the first half. The Cortland goalie knocked away a hard shot by Amy Allen '10, but Andrascik tipped in the rebound.

The Continentals had allowed just one goal in winning their first two games, and controlled the action early against the Red Dragons. However, Cortland eventually took over, especially in the second half. The Red Dragons tied the score with 16:55 left in the opening half when they took advantage of a penalty corner and redirected a shot from the top of the arc. Cortland scored again to take the lead for good with 13:16 remaining in the half.

The Red Dragons held a 15-0 advantage in shots and were awarded 10 penalty corners to just one for Hamilton in the second half. Cortland made the score 3-1 just 4 minutes, 23 seconds after the break, and clinched the victory on another goal with 8:03 left.
Courtney DeMaria '10 made five stops for Hamilton and Leah Cairns '13 recorded one defensive save in the second half.

The Continentals host nationally ranked William Smith College for their Liberty League opener on Friday, Sept. 25.