Field hockey shut out at No. 2 Middlebury
---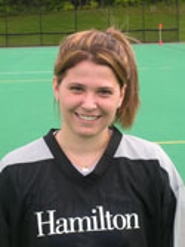 Lauren Greer '13 scored a career-high five goals as nationally ranked No. 2 Middlebury College shut out Hamilton College 8-0 in a NESCAC game at Middlebury's Kohn Field on Oct. 6.

Katherine Theiss '14 chipped in three goals and five players contributed assists for the Panthers. Charlotte Gardiner '13 was credited with two helpers and Margaret Souther '13, Alyssa DiMaio '15, Catherine Fowler '15 and Clara St. Germain '14 added one each. Madeline Brooks '13 and Emily Knapp '15 combined on the shutout without making a save.

Victoria Trentini '15 made 10 saves in the first 25 minutes, 55 seconds, and Katie White '16 stopped five shots in the remaining 44:05. Madison Molho '14 was credited with two defensive saves and Sarah Cauthen '14 tacked on one.

Middlebury (9-0 overall, 6-0 NESCAC) got on the board at 11:03 on a play that started with a penalty corner. DiMaio sent the ball to Souther, who stopped it for Greer before she smacked a shot into the back of the cage. Greer added her second goal on a penalty stroke at 15:32.

The Panthers netted their next four goals within 5:12 of each other as Theiss and Greer exchanged scores. Theiss knocked in her first goal off a pass from Gardiner at the 20:43 mark. Greer picked up her third goal at 23:59, before Theiss tipped in a shot for a 5-0 lead at 25:12. Just 43 seconds later, Greer converted a nice pass from St. Germain for a 6-0 halftime lead.

Theiss tacked on her third goal 5:14 into the second half off a feed from Gardiner. Greer added her fifth and final goal 2:41 later on a pass from Fowler for the final margin. Middlebury outshot the Continentals 34-0, and held a 9-1 advantage in penalty corners.

Hamilton (0-9, 0-7) returns to action on Wednesday, Oct. 10, for a non-conference home game against SUNY Geneseo. Middlebury goes on the road to Connecticut College on Sunday, Oct. 7.